Grilling with Coconut Oil for Your Backyard BBQ (Giveaway)
Author: Shannon Miller Lifestyle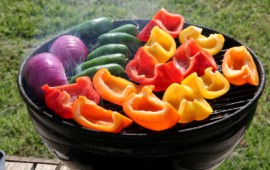 Having a backyard barbecue? Don't want to ruin your health momentum?
The grill is your FRIEND.
Barbeque Grilling is one of the best ways to fix lean protein and veggies that pop with flavor.
Tips on Barbeque Grilling:
Easiest and healthiest proteins to grill: skin-free chicken breast, lean white fish fillets.
Prepping the protein: remove skin (and then make sure the kitchen is raw chicken free), put into a freezer bag with oil, vinegar, and spices. Leave in the bag in the refrigerator for 2-4 hours. If you don't have that much time, just marinate the meat as soon as you can.
Prep the veggies: Use skewers or baskets to collect all your favorites. The fun is in mixing it up. Good summer examples: colored peppers, vidalia onions, tomatoes, squash, zucchini, and mushrooms.
Time it right. Put your protein on first. Turn it often and re-baste it halfway through. Remember that chicken is done with there is NO pink in the middle. But don't let it dry out.
When the protein is almost done, add your vegetables to the grill. Throw on your ears of corn with the husk on. When they start to wilt, they are grilled enough. You don't want mushy veggies.
Add something interesting: a garlic blend, pepper blend, or italian blend make your meal interesting. Don't over spice it. Let your guests choose to add if they want.
Here are some great spice blends that are salt free and can add interest to your grilled foods:
With all of these great seasonings, plus some delicious peppers, vinegars, and hot sauces, you can invent an incredible meal that is good to your body. Try a couple of recipes from our friends over at Kelapo Coconut Oil. Using coconut oil is a healthy alternative to vegetable oil, butter or margarine, and can be used to enhance any dish from savory to sweet!
WIN a full-size bottle of Kelapo Coconut Oil to try out in your new summer recipe. Just comment below on how you'd like to use coconut oil OR just LIKE our Facebook Page here and comment on our summer grilling post. A winner will be picked next Tuesday, July 17, 2012.
________________________________________________________________________________________
1 pound of assorted baby vegetables (carrots, zucchini and acorn squash)
2 Teaspoons Kelapo Coconut Oil, melted
1 Teaspoon Cracked Black Pepper
1 Tablespoon fresh garlic, minced
Toss all ingredients in a large bowl. Grill on hot BBQ, cook to al dente.
________________________________________________________________________________________
Barbeque Grilled Lemon-Lime Chicken
8 boneless chicken breasts
1/2 cup Kelapo Coconut oil, melted
1/4 cup fresh lemon juice
2 tablespoons cilantro leaves, chopped
 In a large zip-top plastic bag, combine all ingredients except for chicken. Mix well and add chicken, then refrigerate for at least 3 hours, turning occasionally. Remove the chicken from the marinade and place on hot grill. Grill 5 to 6 minutes on each side, turning only once.
Garnish with lemon and lime wedges and cilantro.
See more recipes like these at Kelapo's blog or at our very own Guest Blogger, Alma Schneider's, page.