Howl-iday Dog Treats – Dos, Don'ts and Must Haves (#Giveaway!)
Author: Shannon Miller Lifestyle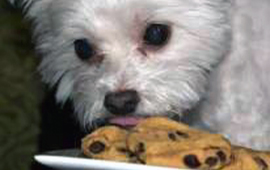 Guest Post by: Rebecca Miller,
Barked Goods Jax
Holidays are a favorite time of year for everyone, including our furry friends.
Festivities usually involve indulging yourself with holiday temptations and slipping Fido a treat or two. While this is okay in moderation, there is some basic food knowledge about dog treats, so you don't upset Fido's sensitive stomach or accidentally let him eat something toxic!
Holiday Dog Treat Health Hazards:
Fat trimmed from meat, (both cooked and uncooked) may cause pancreatitis.
Bones can splinter and cause an obstruction or lacerations of your dog's digestive system.
Macadamia nuts can be toxic and cause seizures.
Peach and plum pits contain cyanide.
Garlic and onions cause oxidative damage to the red blood cells.
Christmas tree pine needles, holly, mistletoe and poinsettias are toxic holiday plants.
Even more, too many commercial dog treats are loaded with unnecessary fats and sugars. A snack or reward for your dog can be as simple as a baby carrot. Not only are carrots loaded with vitamins that help maintain good eye health and vision, but pop a few in the freezer and they become a healthy and helpful solution for teething puppies.
Looking for a treat to give your dog that has nutritional benefits and ingredients as simple as a carrot? Barked Goods Jax, based in Jacksonville, Florida, offers all-natural dog treats that are made with human-grade ingredients and have no additives or preservatives. After sampling and reviewing the company's newest treat, CranOat Clusters, Dr. Jonathan Shivers of Indian Creek Pet Hospital in Fort Myers, Florida says "Every pup I've offered them to at the hospital has loved them! The ingredients listed for all of your recipes looks great, and I'm hoping more people will start taking advantage of your all natural dog treats. They are a much better option than many of the heavily processed treats sold at most commercial pet stores. Thank you for making such a great product".
Barked Goods Jax recommends: CranOat Clusters – packed full of vitamins and nutrients from ingredients such as coconut oil, flax meal and quinoa.
Check out all of the Nutritional Benefits from this CranOat Clusters treat:
Coconut Oil – Improves digestion, relieves arthritis promotes normal thyroid function and supports  healthy skin and coat
Cranberries – Full of minerals and antioxidants and promotes urinary tract health
Flax Seeds – Contain omega-3 fatty acids that are critical for your pet's skin and coat health and is an anti-inflammatory
Oats – Calming effect on the nervous system making them a good addition to the diet of anxious dogs
Quinoa – Acts an internal cleanser, easing the progress of food through the digestive tract
DIY: Making your own frozen treat – another great way to provide a healthy snack or treat for Fido.
Healthy Frozen Yogurt is an easy, homemade dog treat :
Mix plain Greek yogurt (high in protein and calcium) with peanut butter or one of the ingredients suggested below to add a nutritional benefit to your pup's frozen treat.
Blueberries – Loaded with antioxidants helping to reduce the risk of many diseases
Cinnamon – Helps regulate blood sugar, improves circulation and digestion
Cranberries – Full of minerals and antioxidants, promotes urinary tract health
Ginger – Helps with motion sickness and upset stomach
Sweet Potato Puree – Supports healthy skin and eyes as well as a healthy coat
About the Author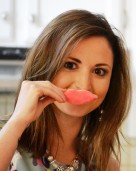 Rebecca Miller is the owner and operator of Barked Goods Jax, which has been in business in the Jacksonville area for the past 3 years. Along with her sister company, Aunt Sasha's Barked Goods located in Alexandria, Virginia, she provides dogs with healthy, nutritious dog treats.  Follow Barked Goods Jax on Facebook and Twitter for Barked Goods specials and tips on how to keep your dog happy and healthy.
www.twitter.com/barkedgoodsjax
Enter to Win Treats in This Giveaway:
One winner will win the Ultimate Gift Tower – Includes: ¼ lb Mini Meatloaf, ½ lb Bacon Cheddar Wafers and ½ lb Pizza Bites. Good Luck!