Natural Remedies That Really Work!
Author: Shannon Miller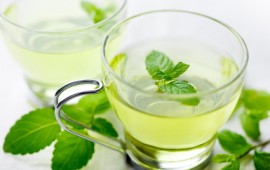 This article starts a series of 11 surefire tips on how to use natural remedies that health and fitness expert, motivational speaker, and wellness consultant Susan Smith Jones, PhD, recommends in her new book Walking on Air: Your 30-Day Inside and Out Rejuvenation Makeover.
She uses these and 100s more with her clients and friends with great success.
by Susan Smith Jones, PhD
Keep stress levels down with tea.
My grandmother, Fritzie, always used to say to me that, "Tea is a hug in a cup." I now like to say "hugs in a cup" because of how good it feels to drink tea with every sip. When someone came to see Fritzie and needed help with stress and anxiety, she would make him a combination of chamomile, lavender, and lemon tea. She would pick the herbs fresh from her beautiful garden.
If someone had an upset stomach, she would often make that person spearmint or peppermint tea.
If they had high blood pressure, she would make hibiscus tea.
Or if they had gas and bloating or wanted something to soothe their nerves, she would make them lemon balm tea and add in a cinnamon stick.
With Fritzie instilling in me a love of tea-drinking, my favorite herbal tea that's not from my herb garden is a carefully blended instant herbal tea from Switzerland. Renowned worldwide, it's called Olbas Herbal Tea — a fragrant tea with a mixture of 20 soothing herbs harvested from the earth's finest crops, enhanced with pure essential oils. Even its delightful herbal aroma gives you an immediate, fresh, clean feeling in the nose and sinuses.
Since the mid-90s, in my private practice, I have been recommending this delicious tea to give relief during times of seasonal discomfort, calm the stomach, quell anxiety, promote relaxation, to enjoy as an after-dinner tea, or when you simply want a comforting tea. It has a delectable peppermint flavor and aroma. There are no tea bags or straining to contend with, and it is great hot, warm, or chilled. I often put a teaspoon of this tea in my smoothies to give them a better flavor. This herbal tea is definitely a hug in a cup to me.
For more information, please visit: SusanSmithJones.com and click on Walking on Air.