Banana Nut Bread
Author: Shannon Miller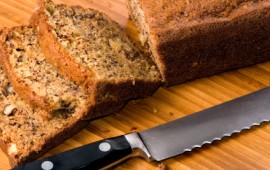 Is there anything better than warm Banana Nut Bread?
Number of servings: 12
Calories: 227
1/4 cup butter, softened
1/4 cup unsweetened applesauce
3/4 cup sugar
2 egg
1 cup all-purpose flour
1 tsp baking soda
½ tsp salt
1 cup whole-wheat flour
1/4 tsp cinnamon
3 large ripe bananas, mashed
1 tsp vanilla
1/2 cup shelled nuts, coarsely chopped (optional)
Preheat oven to 350 degrees.
Grease loaf pan.
Cream together butter, sugar, and applesauce until light and fluffy.
Add eggs one at a time, beating after each.
Whisk together dry ingredients and add to creamed mixture, mixing well.
Stir in bananas, vanilla, and nuts, if using.
Tip: For best results, mash the bananas on a small plate with a fork.  Be certain that you don't leave any large lumps; they tend to end up as big gooey chunks of gray banana.
Pour into pan and bake 50-60 minutes until tester comes out clean.
For many baked items, you can test doneness  by inserting a toothpick in the center of the food.  Remove the toothpick and check to see if anything is sticking to it.  If it looks "gooey," then you probably need to add a few more minutes of baking time.  If crumbs stick then it is getting close; if it comes out clean, then the food is probably ready to remove from the oven.  With a few items, such as brownies, crumbs are O.K.
Recipe by Jessica Bright