Crab Cakes and Remoulade
Author: Shannon Miller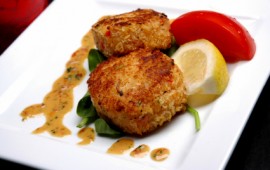 A Southern favorite
Number of servings: 4
Calories: 290
For the crab cakes:
3/4 cup bread crumbs
1/4 cup low-fat mayonnaise
1 tsp Dijon mustard
2 Tbsp sweet onion, finely chopped
1 egg beaten
1/2 tsp fresh parsley, minced
1 tsp fresh thyme, minced
Salt and freshly ground pepper, to taste
1 lb crab meat, drained and flaked
1/2 cup all-purpose flour
1 Tbsp vegetable oil
Combine all ingredients except crab meat, flour and oil, mixing well.  Gently fold crab meat into mixture.  Shape into crab cakes of desired size and chill.
Heat the oil in skillet over medium heat.
Dredge crab cakes in flour then place in oil and fry until golden brown; turn and brown other side.  Drain on paper towels and serve with remoulade (recipe below).
Tip:  Although most shell and cartilage is removed from crab meat when they are "picked", it is a good idea to double check for any pieces they missed.  Gently sort through checking for anything that needs removal.
For remoulade:
1/2 cup low-fat mayonnaise
2 tsp ketchup
1/2 tsp siracha (rooster or chili sauce)
2 Tbsp prepared horseradish
1/4 tsp paprika
1/4 tsp salt
1/2 tsp fresh parsley
Dash of cumin
Dash of cayenne pepper
Freshly ground black pepper, to taste
Combine above in bowl and whisk together well.  Serve with crab cakes and garnish with lemon wedge, parsley, and capers.
Recipe by Jessica Bright