Mustard Glazed Salmon
Author: Shannon Miller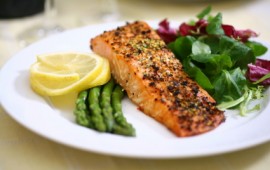 Tasty salmon is good for you
Yield 4 servings
Calories per Serving: 232
2 Tbsp spicy brown mustard
2 Tbsp dark-brown sugar
1 1/4  lbs salmon fillets (recommended serving size is 3 1/2 oz per person)
Kosher salt and freshly ground pepper to taste
Preheat oven to 400 degrees.
Cover a baking pan with foil and spray with non-stick cooking spray.
Dry fillets with a paper towel and place them on the prepared pan.
Season with salt and pepper.
Combine mustard and brown sugar, then spread it evenly on top of all of the fillets.
Bake until fish is golden brown and cooked through, about 12 to 20 minutes, depending on the thickness of your fillets.  Fish will flake easily when cooked through, and should be opaque in the center.
TIP 1: The sauce for this fish is very sticky.  By lining your pan with foil, cleanup will be much easier.
TIP 2:  Even if you don't normally care for salmon, try this dish. The strong flavor of the mustard balances very nicely with the flavor of the salmon, making it milder.
Recipe by Jessica Bright