Sodium: Where to Find It and How to Hide from It
Author: Shannon Miller Lifestyle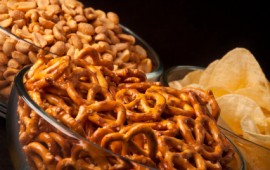 Granted, it makes many of our favorite dishes taste just right and perhaps this is why it's easy to surpass our daily recommended allowance of sodium – most people do.
The recommended amount of sodium for most people is not to exceed 2300 mg/day. 
Interestingly, most of the sodium you consume in a day is not from those fancy salt shakers on your kitchen table – sodium is added to the prepared foods you consume from your local grocery store or favorite eatery.
Here is a short list of some foods that love to harbor our friend, Sodium, and other foods that aren't incredibly fond of it…
Where You Can Find Sodium…
Bacon, corned beef, ham, hot dogs, sausage
Pretzels, chips, crackers, salted nuts
Olives, pickles, relish
Canned beans, chicken, fish, and meat
Where You Can Find a Lot Less of It (foods low in sodium)…
Fresh or frozen fruits and vegetables
Rice
Noodles
Cooked cereal (w/o added salt)
Fresh meat, poultry, and seafood
Low fat, low sodium cheese
Unsalted nuts
Low and reduced sodium frozen dinners, peanut butter, and salad dressings
Air-popped popcorn
If you think you and yours are consuming too much sodium, check out these tips on how to hide from it…
Buy more fresh foods.
Try ditching the fast food, frozen dinners, and canned foods and cook from scratch!
Instead of sprinkling your food with salt, try a dash of spices, herbs, or sodium-free seasonings.
To remove any extra sodium, rinse canned vegetables, beans, meats, and fish.
Check the label on fresh meats and poultry for sodium that has been added for preservation purposes.
The best and easiest tip out there: keep an eye out for foods that have labels like: sodium free, salt free, very low sodium, low sodium, reduced or less sodium, light in sodium, no salt added, unsalted, and lightly salted.
Follow these tips for a healthier lifestyle!  Turn a new

leaf

this

fall

(c'mon, that's funny)!
Sources: "Everyday Eating for a Healthier You",  Eat Right.  . 
"Sodium – Tips for People with Chronic Kidney Disease",  National Kidney Disease Education Program.