Treat Your Toes Right With An At Home Pedicure
Author: Shannon Miller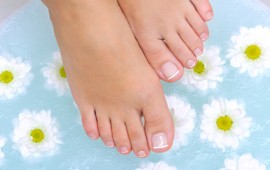 Work, carpool, cooking, cleaning, sporting events, homework…if this sounds like your typical week, you deserve to treat yourself, Mom!
After all, if Mama ain't happy – ain't nobody happy! So, try relaxing while giving yourself a pedicure!
Sneak away to your favorite room in the house, turn on your favorite show or radio station or just enjoy the quiet, and follow these at-home pedicure tips:*
Remove the existing nail polish.  Don't use too much nail polish remover, though, because it can dry out your nail.
Soak your feet in warm water, so it is easier to trim your toenails; cut your nails straight across.
Moisturize your cuticles with a thick, softening moisturizer.
Use a sugar scrub to massage your feet, legs, hands, and arms.  Rinse the scrub when done.
Push the cuticle back away from the nail and trim it; be sure not to trim too close to the nail bed as this can be damaging to the nail.
Remove any moisturizer from the nail with nail polish remover, so that the nail polish will dry easily.  Keep moisturizer on the cuticle area.
Polish the nail in layers; allow time for the nail to dry before putting on the next layer.  Do 1 base coat, 2 coats of color, and 1 top coat.  Give your toes time to dry.  Avoid using quick-dry polishes as these can peel easily.
When your toes dry, moisturize the cuticle area again; this protects the cuticle and allows for healthy nail growth.
Use these tips to indulge yourself this week!  Take time out to pamper yourself!
*"Home Manicures and Pedicures", The Cosmetics Cop, 7 Jan 2011.