Tuna Panzanella Salad
Author: Shannon Miller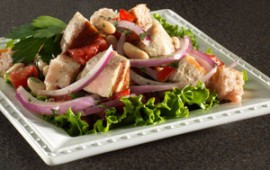 Can you say mmmmmm…? Check out this healthy, easy dish. Try it tonight!
Tuna Panzanella Salad
Grilled chunks of tuna and flavorful white beans jazz up this Tuscan bread salad, which is dressed with a tangy oregano and red wine vinaigrette.
Ingredients
3 Sea Best® Tuna Fillets, thawed
Salt and freshly ground black pepper to taste
2-½ cups day-old Italian bread, cut into 1" cubes
1 can (15 ounces) cannellini beans, rinsed and drained
1 cup diced fresh tomatoes
½ cup julienned red onion
½ cup chopped Italian parsley
1 tablespoon minced fresh oregano
1/3 cup red wine vinaigrette
Directions
1. Preheat grill to medium-high heat.
2. Sprinkle both sides of Sea Best® Tuna with salt and pepper.
3. Grill tuna for 3-4 minutes on each side or until internal temperature reaches 140˚F.
4. Remove from the grill.
5. In large serving bowl, combine the remaining ingredients; toss to coat.
6. Cut tuna into 1" pieces; add to salad and gently toss to combine.
Servings: 4
Chef's Note: Tuna can be cooked the day before and refrigerated until served.
Recipe courtesy of Sea Best Seafood