Working in Those Fruits and Veggies!
Author: Shannon Miller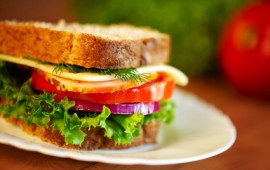 Are you trying to find way to work more fruits and vegetables into your diet?
When you were a kid, it was easy.  Your parents either made you sit at the table until you ate them, or found clever ways of getting you to eat them.  As adults, we have to take an active role in creating our own well-balanced diet.  Isn't growing up fun?!  The truth of the matter is that including fruits and vegetables in your diet can…
help to lessen the risk of some types of cancer and other chronic diseases
provide you with vitamins and minerals that are important for keeping your body healthy
help you maintain a healthy weight
Check out some nifty ways to keep fruits and veggies from being strangers to your diet while cutting down on those pesky things known as calories!  It's a 2 for 1 special!
Breakfast
Add in more spinach, onions, or mushrooms to replace an egg or some cheese in your omelet. 
Pour a little less cereal to leave more room for fruits like bananas, strawberries, or peaches.    
Lunch
On those tasty sandwiches that you pack in your lunch, cut back 2 ounces on your meat or cheese and add in more lettuce, tomatoes, cucumbers, or onions.
In place of 2 ounces of meat or 1 cup of noodles, add some chopped broccoli, carrots, beans, or red peppers to your soup of choice.
Dinner
Replace 1 cup of rice or pasta with 1 cup of broccoli, tomatoes, squash, onions, or peppers.
100 Calorie (or less) Fruit and Veggie Snack Attacks!
1 cup of blueberries (83 calories)
1 cup of grapes (100 calories)
1 cup of carrots (45 calories), broccoli (30 calories), or bell peppers (30 calories) with 2 tbsp. of hummus (46 calories)
TIP:  Challenge yourself this week to work fruits and vegetables into your diet!  The effort is well worth it!
Source: "How to Use Fruits and Vegetables to Help Manage Your Weight", Centers for Disease Control and Prevention.