Yummy Pumpkin Pie Spiced Shake Recipe
Author: Lauren Fox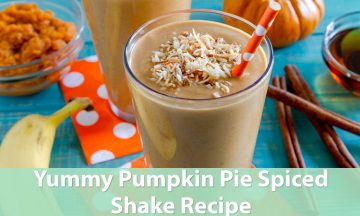 Even though we are based out of Jacksonville, FL where it seems fall doesn't even start until it's snowing everywhere else, we are OBSESSED with the autumn season inspired food and décor scene. That means we have lots of warm, spicy scented pumpkin or apple "fall everything" from candles and essential oil blends to new shake recipes and treats.
However, many of the edible fall goodies are PACKED with way too much sugar or unhealthy ingredients, so we wanted to find a way to appease our cravings while packing in some serious health benefits. And what better way to do it through a fall inspired pumpkin shake with some amazing Juice Plus+ protein mix?
Juice Plus+ Pumpkin Pie Spiced Shake
This recipe keeps you perfectly full all morning with a protein kick from the gluten-free Complete by Juice Plus+ French Vanilla mix.
Here's what you'll need:
1 scoop of Complete by Juice Plus+ French Vanilla
1 cup almond milk
1/2 cup pumpkin puree
1/2 teaspoon pumpkin spice
6 ice cubes
1 teaspoon of honey or maple syrup
Just blend all the ingredients together and enjoy! Note… You can experiment with adding other yummy stuff like a dash of vanilla, nutmeg, cinnamon, a handful of oats, chia seeds, crushed coconut flakes or walnuts on top, etc. We've even seen some people who add half a frozen banana and half a cup of cold brew coffee. So, this really never gets old or boring! Don't forget the cinnamon stick and paper straw to make it Instagram worthy, too;)
Also, just to make you feel even better about drinking this amazing shake, here are some amazing health benefits to it:
This is so good, you will want to make it more than once, so try a few variations, and let us know which one was the best combo! Want another fall smoothie and shake recipe? Try this DELICIOUS sounding Caramel Apple Pie Protein Shake from Dashing Dish.