Alpha Factor and Shannon Miller Announce Exclusive Partnership
Author: Shannon Miller Lifestyle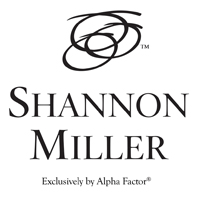 August, 2015
America's Most Decorated Gymnast Launching New Fitness and Gymnastics Leotard Line This Fall
YORK, PA — Alpha Factor, a division of Perform Group, LLC. and Shannon Miller, the most decorated gymnast in United States history, have teamed up to create a new line of gymnastics and fitness apparel.  This revolutionary line combines the latest innovation in performance fabrics and construction techniques with cutting edge fashion details.  "It's time for a line of gymnastics and fitness apparel that embodies the strength and endurance we need to compete both on and off the gymnastics floor.  I am thrilled to join Alpha Factor in creating this new line.  We all need apparel that inspires us to move and provides the performance features athletes need to feel confident and dream big," says Shannon about the new collection.
The new Shannon Miller line is sold exclusively through Alpha Factor, and the initial collection will be available for sale at the end of September 2015 in time for the Holiday season.  Line preview and pre-season sales will be taken during National Congress in Indianapolis August 12 – 15, 2015.
"We are so excited to work with Shannon on this new brand. Her experience as an athlete and fitness advocate bring fresh insight and perspective to the Alpha Factor team.  Together we have developed high quality garments that will exceed the expectations of the market." states Sara Murphy, Director of marketing and Design at Perform Group, LLC.
The full Shannon Miller Collection is expected to be unveiled at the end of September. It's Time.
About Alpha Factor
For over 30 years, Alpha Factor has been a leading manufacturer and supplier of gymnastics apparel around the world. With a mission to integrate cutting edge style, superior quality, and reliable fit into every leotard and warm-up, Alpha Factor has been the trusted apparel supplier for Olympic teams, national collegiate teams and gymnasts of all levels. Long recognized for, innovative and unique designs, Alpha Factor creates beautiful, custom garments that not only stand out, but also stand the test of time.  To learn more visit www.alphafactor.com
About Shannon Miller and Shannon Miller Lifestyle
Shannon Miller remains the Most Decorated American Gymnast, male or female, in history with seven Olympic medals (two gold, two silver, and three bronze) and 9 World Championship medals (over half of them gold). After retiring from Olympic competition, Shannon completed her undergraduate degrees in marketing and entrepreneurship from the University of Houston and received her law degree from Boston College Law School. Now President of Shannon Miller Lifestyle, a company focused on helping women make their health a priority, Shannon continues to inspire and motivate others. In addition to a content-based website and strategic partnerships, Shannon furthers the message of a healthy and fit lifestyle as a professional speaker, author, and host of her weekly health radio show. In addition, Shannon is the President of her foundation dedicated to fighting childhood obesity. Shannon remains involved with the sport of gymnastics through commentary and analysis most recently with Yahoo! Sports.