America's Most Decorated Gymnast Now Featured on America's Largest Online Retailer
Author: Shannon Miller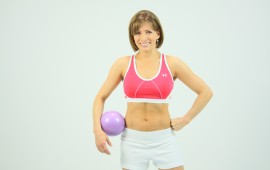 PRESS RELEASE
For more information, contact:
Katie Barnes
(877) 344-8502
Katie@ShannonMillerLifestyle.com
JACKSONVILLE, FL, August 27, 2010 – Online shoppers can now find America's Most Decorated Gymnast Shannon Miller's healthy lifestyle products on Amazon.com.
Shannon Miller Lifestyle just released Shannon Miller Yoga To-Go, Shannon Miller Stretching To-Go, Shannon Miller Abs To-Go, Shannon Miller Fit Pregnancy DVD, Shannon Miller Body After Baby DVD, Shannon Miller Healthy & Balanced Pregnancy Cookbook, Shannon Miller Food Journal & Exercise Log, and Shannon Miller Runner's Journal for sale on Amazon.com (keyword: Shannon Miller Lifestyle).
Shannon Miller states, "Just like my healthy and fit products are designed to meet the needs of busy women, I wanted my products to be available in the most convenient outlets for shoppers. That's why Shannon Miller Lifestyle has teamed up with Amazon.com!"
All seven Shannon Miller Lifestyle products geared toward health and fitness for women are available on http://www.shannonmillerlifestyle.com and http://www.Amazon.com (keyword: Shannon Miller Lifestyle).
Shannon Miller recently launched her company Shannon Miller Lifestyle: Health and Fitness for Women along with a website http://www.shannonmillerlifestyle.com. She also hosts a weekly call-in radio show.
Shannon Miller is the only American to rank among the Top 10 All-time gymnasts and is the only female athlete to be inducted into the US Olympic Hall of Fame twice (Individual 2006 and Team 2008). Among her career highlights, she has won an astounding 59 International and 49 National competition medals, over half of which are gold. She is the only US gymnast to win two World All-Around titles. Her tally of five medals (two silver and three bronze) at the 1992 Olympics in Barcelona, Spain was the most medals won by a US athlete.
At the 1996 Games in Atlanta, GA, she led the "Magnificent Seven" to the US Women's first ever Team Gold and for the first time for any American gymnast, she captured gold on the balance beam. Shannon continues traveling the country as a highly sought after motivational speaker and advocate for the health and wellness of women and children. Shannon and her husband welcomed their first child John "Rocco" on October 28, 2009.
Get Connected:   http://www.shannonmillerlifestyle.com
Twitter:   http://www.twitter.com/SMillerGold
Facebook:   http://www.facebook.com/SMLifestyle