Behind the Scenes: Shannon Back on Beam Doing a Cartwheel
Author: Shannon Miller Lifestyle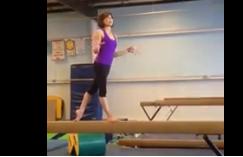 Shannon Miller doing a cartwheel on the balance beam.
Shannon went to World Class Gymnastics in her home-city of Jacksonville, FL to film a nation-wide social media campaign (TBA later).
Here you'll see she's still got her skills without even practicing or warming up (or falling).
It's like riding a bicycle…it just comes right back to you!
Thanks to everyone who made this shoot a success!