Edmond's Golden Champ Now a Mom & Health Advocate
Author: Shannon Miller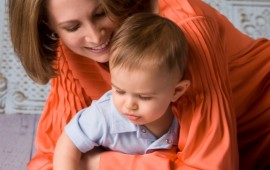 Champion Shannon Miller is as much a part of the community's identity, as Oak Tree, LibertyFest or the University of Central Oklahoma. So when the famed gymnast visited her hometown promoting her new fitness company for women, it's still news and a reminder of how she forever linked Olympic glory with Edmond.
This article by Steve Gust, was originally published in Edmond Life and Leisure
That was the case last week when Miller now a young mother, came back to announce her new company "Shannon Miller Lifestyle: Health and Fitness for Women." It includes a web page (www.shannonmillerlifestyle.com) and a radio show which features advice and products for women.
It's the latest challenge for one of Edmond's most famous citizens ever. She was inspired after getting herself back in shape following her exit from a very successful gymnastics career. Last week she also helped at a grand opening for Star Gymnastics, at 580 Enterprise Drive — run by her former coach Steve Nunno.
Undoubtedly a new generation of gymnasts hopes to duplicate Shannon's career. And what a career it was.
In 1992 the 15-year-old Shannon was soaring in national competition and eventually qualified for the U.S. women's Olympics gymnastics team, a great achievement itself. She was not expected to be the star of the games, but by the time the Olympic flame went out in Barcelona, she had won an astounding five medals.
Once back in America, she stopped at the White House with the rest of the USA Olympic team. "It was a lot of fun," she said. "Arnold Schwarzenegger was there and we all met President Bush. We were suppose to eat outside, but it rained. So there we were eating hamburgers right in the White House."
In the meantime, her outstanding performance hadn't gone unnoticed in Oklahoma, especially in Edmond, where a parade was held in her honor.
That turned out to be a dress rehearsal for the reception she got in 1996. This time she came back to Edmond with two coveted Olympic gold medals, one for a team competition and another for an individual balance beam showing.
"To win them in Atlanta was really special," she said.
For Shannon some of her outstanding career may be a blur now, but there are memories which are as fresh as when they happened. One was her balance beam routine, which won the gold. She did it in front of thousands in a packed arena and millions watching. "I may not have been the best physically, but mentally I always tried to be as ready as I could," she said. Her performances as a gymnast are legendary and by 1996, not only did she have Edmond and Oklahoma beaming, but all of America was equally as proud.
And so the daughter of Edmond's Claudia and Ron Miller got her second parade. This one went north from Memorial up Broadway and ended in downtown Edmond. There, Shannon Miller was greeted by dignitaries including then-Gov. and Mrs. Frank Keating. Then-UCO-president George Nigh and OU president David Boren. Each were part of the red carpet treatment for Shannon. Thousands were present. Those who couldn't make it saw it via television helicopters and news vans from Oklahoma City and Tulsa. Plans for statues and street signs were most likely already in the works.
During that time her greatest challenge may not have been the competition, but the post-competition arena. She admits now she wasn't always very comfortable in front of cameras and fielding reporters' questions, The more success she obtained, the more reporters and questions she got.
That started to change 10 years ago, after she barely failed to qualify for her third consecutive women's Olympic team.
"I gave it my best and tried," she recalled. "If I hadn't, I would have always asked myself if I could have done it." That may have been a blessing as she eventually did go to that Olympics in Australia, but as an broadcast analyst. That was the start of a new Shannon Miller.
She became more outgoing, articulate and to this day is a gymnastics commentator.
Now 33 she lives in Jacksonville, Fla. with her husband John Falconetti. The family added John "Rocco" Falconetti, nine months old. He made his first trip to Edmond last week. Shannon has noticed the changes in Edmond.
When she came back from Barcelona, west Edmond didn't yet have the Santa Fe and Danforth Super Walmart near her neighborhood. "It's something now," Shannon said. "I remember coming back and seeing Star Bucks for the first time. I was like 'Yes.'"
One of Edmond's most famous daughters is still recognized, especially by young gymnasts and their mothers. These days Shannon is very comfortable and outgoing and even a motivational speaker.
And the fans will always be there — especially the little girls. Anna Grace Webb, 9, the daughter of UCO president Roger Webb and wife Jeanie, was present during an interview of Shannon, as was President Webb. Anna Grace had written a paper in school on Shannon being a hero. Last week she got to meet her hero in a dream come true.

In 2010 Shannon remains a hero.
Thousands in Edmond can't debate that. They can think back to a time in the not so distant past when the Olympic champion made us all feel good and proud. And she still does.
Shannon Miller Notes:
If Barcelona in 1992 had the current Olympic age rules, Shannon would not have qualified. You have to turn 16 in the year of the Olympics. She was only 15 at the time.
At Barcelona, Shannon came within a whisker of winning the individual all around gold medal. Had she won, she's not sure she would have returned for the 1996 Olympics.
As part of her 1996 victory lap, Shannon appeared on the national "David Letterman", talk show with the rest of the women's team.
"It was so cold on that set," she said. "I'll never forget it. He must keep it at 40 degrees in there."
For more go to: Edmond Life and Leisure