Get in the Game App with Shannon Miller and more exclusively on iTunes.
Author: Shannon Miller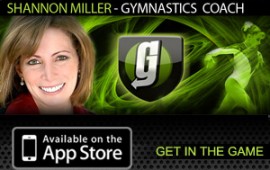 Get in the Game with Alex Rodriguez, Joe Montana, Shannon Miller and dozens more exclusively on iTunes.
Get in the Game is a sports training application featuring one-on-one coaching tips from such greats as baseball icon Alex Rodriguez, quarterback Joe Montana, and dozens of other legendary coaches and players.
The Get in the Game app is a free download and is available exclusively on iTunes. Aspiring athletes can unlock up to an hour of exclusive coaching tips from their favorite sports star, right inside the app for only $9.99.
"We are extremely pleased to be working with the best athletes in some of the most popular sports. By providing instant access to these players, we give kids of all ages a convenient way to take their game to the next level."  said Alex Rodriguez, who is a founding partner in Get in the Game, along with Hall of Fame quarterback Joe Montana.
"Once you take the intimidation factor out of the game by knowing you are using the proper technique, your natural ability can take over and the game becomes a lot more fun and rewarding," said Montana.
There are over 30 coaches available in a wide variety of sports, from football and baseball, to tennis and soccer. The Get in the Game roster includes such legendary talents as Andy Roddick, Barry Sanders, Bill Parcells, Heather Mitts, Hines Ward, Michael Vick, Jennie Finch, Jerry Rice, Jimmy Rollins, Joe Torre, Kristi Yamaguchi, Martin Brodeur, Shannon Miller and many more. In addition to conventional competitive sports, Get in the Game offers yoga by Ricky Williams, a look inside the world of wrestling with Hulk Hogan, and insights on poker from Doyle Brunson and Phil Hellmuth.
Get in the Game will continue to add to its roster and is focused on utilizing the latest in mobile and digital technology to inspire future athletes to Get in the Game.
Facebook Fans will be entered to win cool prizes as well as one-on-one experiences with our athletes.
Download the free app now on Itunes