Inside Edition: Shannon Miller Battles Ovarian Cancer
Author: Shannon Miller

Inside Edition Airdate: 05/31/2011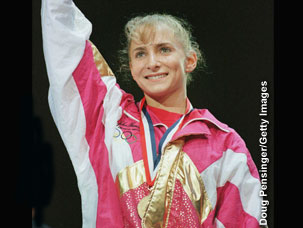 The world first fell in love with Shannon Miller, the amazingly talented gymnast, when she took double gold for America at the Atlanta Olympics in 1996.
But Miller looks very different today.
Now 34, the Olympic legend has lost all of her hair upon completing chemotherapy as part of a grueling battle with ovarian cancer.
"The Olympic mode kicks in and says, ok you've got a challenge. What are the steps you're going to take in order to win, to reach that finish line," Miller said.
Miller was diagnosed with an early form of ovarian cancer. "I had to have surgery. They took out a baseball-sized tumor and my left ovary," Miller said.
After the procedure, Miller, who has an 18-month-old son, Rocco, opted to have intensive chemotherapy. "If it's what I need to do to make sure I'm here for him, sign me up. Let's just do it," Miller said.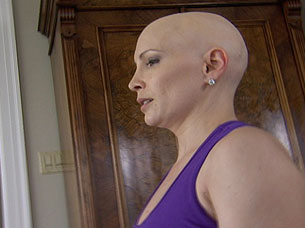 Rather than wait for all of her hair to fall out, Miller had her head shaved. In a matter of minutes, her thick brown locks disappeared and were strewn across the floor. Her husband, businessman John Falconetti, offered his wife a consoling hug.
After finishing nine weeks of chemo, Miller is cautiously optimistic and awaits the all clear from her doctor. She stresses the importance of regular check-ups for women, no matter how busy you may be.
"If I had not gone to the doctor, if I had waited another year, especially with an ovarian cancer, I can't even bring myself to say what could have happened. Obviously, it could have been extremely devastating," Miller said.
Follow this link to My Journey to learn more about Shannon Miller and her battle with cancer.
Follow this link to visit the Inside Edition website and read the full article.