National Gymnastics Day World Record Attempt!
Author: Shannon Miller
PRESS RELEASE
FOR IMMEDIATE RELEASE
For more information, Please Contact
Amanda L. Robinson
Media & Public Relations Coordinator
phone: 317.829.5679
arobinson@usagym.org
USA Gymnastics
132 E. Washington Street, Suite 700
Indianapolis, IN 46204
Begin Here. Go Anywhere
Gymnastics Clubs Nationwide Take a Stand to Celebrate National Gymnastics Day with World Record Attempt
INDIANAPOLIS, Sept. 15, 2011 – On Sept. 17, more than 90 gymnastics clubs throughout the country will join forces to break the world record for most handstands performed simultaneously to celebrate this year's National Gymnastics Day. At precisely 1 p.m. ET, gymnasts, families, friends and enthusiasts nationwide will kick up their feet to break the existing record and raise money for Children's Miracle Network Hospitals.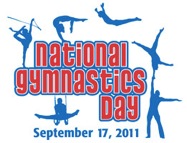 "2011 is the Year of the Handstand at USA Gymnastics and clubs around the country are uniting to simultaneously break the world record," said Steve Penny, president of USA Gymnastics. "National Gymnastics Day is a celebration of the great benefits provided through the sport of gymnastics. Gymnastics is fun, and provides a great foundation for physical fitness. Gymnastics clubs offer a safe environment to learn how to use your body in all types of activities and different sports."
The current simultaneous handstand record is 2,402 set in 2005 by Australian gymnasts in Melbourne to promote the 2005 World Gymnastics Championships. This broke the record of 1,072 previously set by residents of Indianapolis, in July 2005 as part of the run-up to the 2005 Visa Championships.
Each year, USA Gymnastics celebrates National Gymnastics Day to build awareness of the sport and support Children's Miracle Network Hospitals. Money raised will benefit Children's Miracle Network Hospitals in each club's local community. Since 2001, gymnastics clubs across the country have raised more than $1.4 million for Children's Miracle Network Hospitals.
The Governors of Connecticut, Delaware, Illinois, Indiana, Nevada and Texas are scheduled to proclaim September 17, 2011, as Gymnastics Day in their respective state. Here's a quick overview of some of the clubs who are participating in the world-record attempt or hosting other special events.
Chicago. World Sport Chicago will be joined by American Eagles, Oak Lawn Park District, GymSpot and Northbrook Gymnastics at Armour Square Park for their Family Fitness Festival and National Gymnastics Day. They are providing a free bus service for gymnastics teams throughout Chicago to make it easy for participants to join in on the activities.
Columbia, Missouri. Show-Me Gymnastics has encouraged all seven local clubs and the University of Missouri Gymnastics team to come together for this world record attempt.
Indianapolis. DeVeau's School of Gymnastics will kick off their National Gymnastics Day celebration with the handstand record attempt and an open gym 1-2:30 p.m., and include games and family-fun activities.
Kalamazoo, Michigan. Greater Kalamazoo World of Gymnastics will have a local radio station providing a remote broadcast from their facility, as well as host an auction and solicit donations from local businesses to raise money for Children's Miracle Network Hospitals. Each participant will receive a coupon for a free open workout at the gym or a one-hour long class.
Redmond, Washington. Emerald City Gymnastics Academy is hosting its third annual customer appreciation barbeque and open house for its 1,200 member families, as well as the entire community. Last year, they raised more than$2,000 and are aiming for even greater success this year.
St. Louis, Missouri. As the city gets ready to host the 2012 Visa Championships, June 7-10 at the Chaifetz Arena, the St. Louis Sports Commission is joining up with more than 250 participants from gym clubs within the St.Louis area to break the world record and participate in National Gymnastics Day activities throughout the afternoon.
San Jose, California. Along with their annual Cartwheel-a-thon, the California Sports Center is going for its sixth straight year of fundraising on behalf of the Children's Miracle Network Hospitals and 11th annual National Gymnastics Day celebration. The day's activities feature special appearances by 1996 Olympic gold-medalist Kerri Strug, the mayors of Santa Clara and San Jose, the San Jose Sports Authority representatives, and collegiate gymnasts from San Jose State University, Stanford University, and the University of California, Berkeley.
Metropolitan Dallas, Texas. Top Flight Gymnastics will have 75 gymnasts participating in the handstand record attempt at its gym in Southlake. In addition, Top Flight's competitive team will be among the participants in the district gymnastics competition being held at Trevino's Gymnastics Club in Lancaster, where they will halt the competition so competitors can also take part in the world record attempt..
Syracuse, New York. CNY Gym Centre is setting up a live video feed with a team member's father who is stationed in Afghanistan to allow him and his fellow soldiers to watch, cheer them on, and kick up into a handstand themselves.
For more information on a particular area, National Gymnastics Day and the Children's Miracle Network Hospitals, go to the USA Gymnastics website http://www.usagym.org/ngd.
Background information
Children's Miracle Network Hospitals. Children's Miracle Network Hospitals raises funds for 170 children's hospitals across North America, which, in turn, use the money where it's needed the most. When a donation is given it stays in the community, ensuring that every dollar is helping local kids. Since 1983, Children's Miracle Network Hospitals has raised more than $4 billion, most of it $1 at a time. These donations have gone to support research and training, purchase equipment, and pay for uncompensated care, all in support of our mission to save and improve the lives of as many children as possible. Learn more at http://childrensmiraclenetworkhospitals.org/.
USA Gymnastics. Based in Indianapolis, USA Gymnastics is the national governing body for gymnastics in the United States. Its mission is to encourage participation and the pursuit of excellence in the sport. Its disciplines include men's and women's artistic gymnastics, rhythmic gymnastics, trampoline and tumbling, acrobatic gymnastics and group gymnastics. For more information, log on to http://www.usagym.org.
###