Olympic Athlete Launches Website
Author: Shannon Miller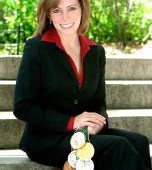 07/30/2010
by
Max Marbut
Staff Writer
'It's not about perfection'
Shannon Miller is a busy woman. She always has been.
Miller holds the distinction of being America's most decorated gymnast with 59 international and 48 national competition medals, more than half of them gold medals.
She is also the only U.S. gymnast to win two World All-Around titles. At the 1996 Olympic games, she led the "Magnificent Seven" to the U.S. women's first-ever team gold medal and, for the first time for any American gymnast, she earned the gold medal on the balance beam.
All that and more was on Miller's resume before the age of 20.
"When I was 19, I retired from gymnastics and people wanted me to write my autobiography," said Miller. "But 19 is too young."
She put a career as an author on hold in favor of being in front of the camera, hosting shows and appearing as a commentator on NBC, ABC and other networks. Miller also holds a law degree from Boston College Law School and started the Shannon Miller Foundation, which is dedicated to fighting childhood obesity. She is also co-chair of Gov. Charlie Crist's Council on Physical Fitness
A few years ago, Miller married Jacksonville businessman John Falconetti. Last October, John Rocco Falconetti was born, along with the inspiration for her new website, www.Shannonmillerlifestyle.com.
"Everyone has that one thing they're always going to get around to doing," she said.
Miller said that during her pregnancy, "I had so many questions about what to eat and how to stay fit, so I went to the experts and got the answers. Now I'm sharing what I learned with other women."
The website offers Miller's books, DVDs and other resources dedicated to opening the lines of communication among women and "remind them that it is okay to ask questions, demand answers, support each other and have fun along the way."
The original format is primarily informational, but Miller said the site will evolve and online forums are in the works. She believes creating an environment to foster communication is the most important element.
"As women, we do disservice to each other if we don't communicate. We want to get women talking," said Miller.
She also hosts a weekly radio show 9 a.m.-10 a.m. Sunday on AM-690 and FM-106.5, "Shannon Miller Lifestyle: Health and Fitness for Women." Listeners are invited to call the show and ask questions of Miller and her guests.
"My goal is to empower women with the knowledge and education they need to make informed decisions on health and fitness for themselves and their family. Gold medal or not, battling weight issues, becoming a mom or facing a difficult diagnosis, there are things that level the playing field," said Miller.
She also said she's sure the collection of books and fitness DVDs offered for sale on the website will grow.
"My son provides constant inspiration. The topics will change as he grows and as I grow in motherhood and as a woman. I'm having a lot of fun. It's a constant learning experience," said Miller.
When asked about the biggest difference between being an athlete at the highest level and being a mother and entrepreneur, Miller said, "I'm very competitive by nature. Gymnastics was about perfection and competing against myself, sticking a landing or scoring a perfect 10.
"Motherhood and business have taught me it's not about perfection, it's about learning from mistakes."
See the original article and view photos at  http://www.jaxdailyrecord.com/showstory.php?Story_id=531559