Olympic Gold Gymnast Shannon Miller Leads Eight Week Walk-Fit Group in Jacksonville, Florida
Author: Shannon Miller

For more information, contact:
Katie Barnes
Marketing and Public Relations
Shannon Miller Lifestyle: Health and Fitness for Women
(877) 344-8502
Katie@ShannonMillerLifestyle.com
Olympic Gold Gymnast Shannon Miller Leads Eight Week Walk-Fit Group in Jacksonville, Florida
JACKSONVILLE, FL, Jun 10, 2011 – Olympic Gold Medalist Shannon Miller will be joined by Action News Jacksonville for an eight week walking group to help kick off a healthy lifestyle for Eight Week Walk-Fit Group participants.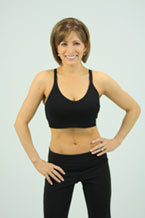 For eight weeks, starting June 22nd, on each Wednesday morning from 8 to 9 AM, Shannon Miller's Walk-Fit Eight Week Group will meet at the Memorial Park in Jacksonville, Florida.  There will be weekly discussions about easy steps to a healthier lifestyle with Shannon Miller.  Each week will feature a new topic, like goal setting, nutrition, and cross-training.  Each week participants will walk with a supportive group, developing a healthier lifestyle.  Registered participants in Shannon Miller's Walk-Fit Eight Week Group will receive a copy of "Shannon Miller's Food Journal and Exercise Log", and a Shannon Miller Lifestyle pedometer, in addition to the benefits of a support group.
Space for participation in Shannon Miller's Eight Week Walk-Fit Group is limited for the group.  Those interested in registering are requested to e-mail walking@shannonmillerlifestyle.com as soon as possible, stating why participating in Shannon Miller's Walk-Fit Group is important to them. Eight Week Walk-Fit Group participants will be eligible to win prizes periodically during the program, including a surprise grand prize.
For additional encouragement, Action News Jacksonville (television channels WTEV 47 (CBS) and WAWS 30 (Fox)) will be following the progress of Shannon Miller's Eight Week Walk-Fit Group each Wednesday during their morning News programs.
The fitness benefits of Shannon Miller's Walk-Fit Program are also available from home.
By signing-up at https://www.shannonmiller.com/walk-fit/, members have access to a free, online tracking and rewards program that is designed to help people achieve a healthy  and balanced lifestyle.  Program members can track the steps walked each day from anywhere in the world, and follow their progress on virtual trails.
The Tom Bush Family of Dealerships is the title sponsor for Shannon Miller's Walk-Fit Program.
ABOUT SHANNON MILLER
Shannon Miller is the only American to rank among the top ten all-time gymnasts and is the only female athlete to be inducted into the US Olympic Hall of Fame twice (individual 2006 and team 2008). Among her career highlights, Miller has won an astounding 59 international and 49 national competition medals, over half of which are gold. She is the only US gymnast to win two world all-around titles. Her tally of five medals (two silver, three bronze) at the 1992 Olympics in Barcelona, was the most medals won by a US athlete. At the 1996 Games in Atlanta, she led the "Magnificent Seven" to the US women's first ever team gold and for the first time for any American gymnast, she captured gold on the balance beam.
Miller is now President of Shannon Miller Lifestyle: Health and Fitness for Women, as well as an author, television personality, and host of Shannon Miller Lifestyle Radio presented by St. Vincent's HealthCare. She holds a BBA in marketing and entrepreneurship from the University of Houston and her law degree from Boston College. She founded the Shannon Miller Foundation dedicated to fighting childhood obesity and is Co-Chair of the Florida Governor's Council on Physical Fitness.
Miller continues to travel the country as a highly sought after motivational speaker and advocate for the health and wellness of women and children. Shannon and her husband welcomed their first child John "Rocco" on October 28th, 2009.
ABOUT SHANNON MILLER LIFESTYLE
The mission of Shannon Miller Lifestyle is to inform, educate and inspire women to lead a healthy and balanced lifestyle. Through books, DVDs, motivational speaking, a weekly call-in radio show, and website, https://www.shannonmiller.com, Shannon focuses on opening the lines of communication and reminding women that it is okay to ask questions, demand answers, support each other and have fun along the way. Shannon Miller Lifestyle is targeted to women with a focus on pregnancy and motherhood.
ABOUT TOM BUSH FAMILY OF DEALERSHIPS
Three generations of the Bush family have been in the automobile business since 1918 and they have enjoyed serving the Jacksonville community since 1970. The Tom Bush Family http://www.tombush.com/ recognizes the importance of complete customer and employee satisfaction. For 40 years they have been dedicated to contributing to the community that has supported them. They strive to continuously improve their services and processes, to better serve their customers and employees.