Olympic gymnast will be featured speaker at Ribbon of Hope Luncheon
Author: Kenny Harper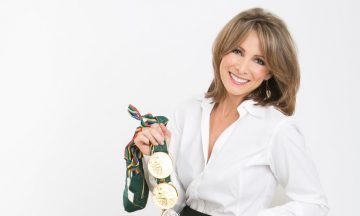 Ribbon of Hope Luncheon & Speaker
Keynote Speaker: Shannon Miller
Kettering Medical Center Foundation is pleased to announce Ms. Shannon Miller as the keynote speaker for the 2019 Ribbon of Hope Luncheon!
Shannon Miller remains the Most Decorated Olympic Gymnast in American History with 7 Olympic medals. (2 gold, 2 silver, 3 bronze). She is the only female athlete to be inducted into the US Olympic Hall of Fame – Twice! (once as an Individual (2006) and again for Team (2008)) Shannon has won an astounding 59 International and 49 National competition medals. Now retired from competition, Shannon has moved from Olympic athlete to advocate for the health and wellness of women and children.
In January of 2011, Shannon was diagnosed with a rare form of ovarian cancer. She had the baseball sized tumor removed successfully and followed up with an aggressive chemotherapy regimen. Shannon has remained open and public about her diagnosis and treatment and continues to empower women to make their health a priority. Shannon is currently cancer-free and continues to be a strong advocate for early detection, awareness, research and survivorship. Join us as Shannon shares her journey and help others along their won cancer journey.
Ribbon of Hope Luncheon History
The Ribbon of Hope Luncheon originated in 2001 as a fundraiser for the Women's Wellness Fund. It attracts a capacity crowd of the Dayton area's business and community leaders to the Ponitz Center at Sinclair Community College to hear a nationally-known speaker on the topic of breast cancer and women's health issues.
Past speakers at the luncheon include:
Lori Allen from TLC's "Say Yes to the Dress: Atlanta"
Dr. Jerri Nielson, physician who treated herself while on duty at the South Pole
Susan Ford, former first daughter
Astronaut Mae Jemison
Dr. Lillie Shockney
Stephanie Speilman, wife of OSU football star Chris Speilman
Dr. Vladimir Lange
Hoda Kotb, Today Show host
Cokie Roberts, ABC news commentator
Cate Edwards, President of the Elizabeth Edwards Foundation
Christine Clifford, breast cancer survivor and author
Geralyn Lucas, author, journalist, and breast cancer survivor
Samantha Harris, television hostess, actress, and breast cancer survivor
Bill Rancic, husband of breast cancer survivor, Giuliana Rancic
Kelly Corrigan, New York Times best-selling author and breast cancer survivor
Over the years the luncheon has grown from 75 attendees to over 650 at this sell out event. Many corporations and organizations attend in addition to individuals who are dedicated to supporting the Women's Wellness Fund. The fund provides breast imaging services and other women's cancer care to uninsured or under served women in the Dayton-area at no cost to them. It has helped more than 15,000 women and raised in excess of $2.2 million since 1995 through the Walk for Women's Wellness and The Ribbon of Hope Luncheon.
For more information, contact us at (937) 395-8607.
Tuesday, October 8, 2019
Location: Sinclair Community College/Great Hall
Boutique & Wellness Vendors open at 10am
Registration: 11am  |  Luncheon: 11:45am
Parking is free and is available in the underground parking garage of building 12, which is approached off of 4th street. Guests should use the SOUTH stairway or elevator to the 1st floor for the event.