Olympic Gymnastic Star – Shannon Miller's Remarkable Career
Author: Shannon Miller Lifestyle
From the Herald Net article by Rich Myhre
Olympics Gymnastics Star Miller looks back at a Remarkable Career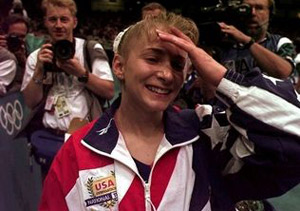 Shannon Miller was just trying to keep up with her older sister when she started gymnastics at age 5.
But over the next 15 years she developed into the most decorated gymnast in American history with 16 Olympic or World Championship medals, including seven golds.
It was a remarkable career, and one that seemed improbable for a youngster from Edmond, Okla., who struggled in her beginning gymnastics classes.
"It wasn't that I was awkward," said the 34-year-old Miller, who visited the Seattle area last week to promote next month's Pacific Rim Gymnastics Championships in Everett. "It's that I wasn't that strong, that flexible. I wasn't a naturally talented athlete who picked up all the skills quickly. Some skills I picked up quickly, but others took forever."