Olympic Medalist Shannon Miller speaks at Champion Cycling Ladies Night
Author: Shannon Miller
PRESS RELEASE
For more information, contact:
Katie Barnes
(877) 344-8502
Katie@ShannonMillerLifestyle.com
JACKSONVILLE BEACH, FL, August 29, 2010 – Seven-time Olympic Medalist Shannon Miller will be speaking about "Gold Medal Goal Setting for Women" on Thursday, September 2 at 7:00 PM at Champion Cycling's monthly Ladies Night located at 1303 N Third Street, Jacksonville Beach.
Admission is free and open to all women. Refreshments will be served during the program. Miller will be on-hand after speaking for a meet-n-greet session and autographs.
Champion Cycling employee and Ladies Night coordinator Katie Barnes states, "Champion Cycling is so excited to host Shannon Miller! As an Olympic Gold Medal athlete, women's health advocate, and busy mom, Shannon is such an inspiration to the women's cycling community!"
America's Most Decorated Gymnast Shannon Miller is the only American to rank among the Top 10 All-Time Gymnasts and is the only female athlete to be inducted into the US Olympic Hall of Fame twice (Individual 2006 and Team 2008). Among her career highlights, she has won an astounding 59 International and 49 National competition medals, over half of which are gold. She is the only US gymnast to win two World All-Around Titles. Her tally of five medals (two Silver and three Bronze) at the 1992 Olympics in Barcelona, Spain was the most medals won by a US athlete.
At the 1996 Games in Atlanta, GA, Shannon Miller led the "Magnificent Seven" to the US Women's first ever Team Gold and for the first time for any American gymnast, she captured Gold on the balance beam. Miller recently launched her Jacksonville-based company Shannon Miller Lifestyle: Health and Fitness for Women, along with a website http://www.shannonmillerlifestyle.com. She also hosts a weekly call-in radio show dedicated to health and fitness for women and their families on Jacksonville's WOKV. Miller and her husband welcomed their first child John "Rocco" on October 28, 2009.
Champion Cycling (http://www.championcycling.net/) is Northeast Florida's full-service bicycle shop with three locations in Jacksonville: Jacksonville Beach, Arlington, and Mandarin. Champion is a dealer of Giant, Felt, Cervelo, Pinarello, Haro, Quintana Roo, Colnago, and Solar bicycles, and offers service and repairs on all makes of bicycles.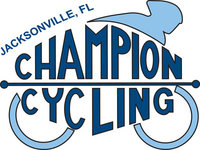 Champion Cycling began its ladies program "Champion Chicks" in June 2010. Since inception, Northeast Florida women have enjoyed monthly hands-on workshops, such as "How to Change a Flat" and "Basic Bicycle Maintenance," and other bicycle-related classes such as "Yoga for Cyclists." Champion Cycling's Ladies Night supports Beaches Women's Partnership, a 501(c)(3) non-profit dedicated to empowering women and strengthening families through personalized information and referrals, partnerships with other service providers, and development of programs to serve unmet needs" (http://womenspartnership.org/).
Champion Cycling in Jacksonville Beach at 1303 N Third Street offers Ladies Night the first Thursday of every month, and Champion Cycling in Mandarin at 11447 San Jose Boulevard offers Ladies Night the third Thursday of every month at 7:00 PM. Women can look forward to refreshments, special merchandise sales, and question-and-answer sessions with bicycle service specialists. Jacksonville vendors and fitness outfits such as ProBar, PowerBar, Omvelo, Massage Therapist Adrienne Encinosa-Lockett, Musician Ajamu Mutima, MBody Yoga, and Delicomb have participated in Champion Cycling's Ladies Night.
For more information, please contact Champion Cycling Ladies Night coordinator Katie Barnes via email Katie@ShannonMillerLifestyle.com or visit the Champion Cycling Facebook Page: http://www.Facebook.com/ChampionCycling for the latest details.
View Champion Cycling Ladies Night photos on Facebook here:
June 2010 Champion Cycling Ladies Night photos
July 2010 Champion Cycling Ladies Night photos
August 2010 Champion Cycling Ladies Night photos