Road to London Travels Through St. Louis
Author: Shannon Miller Lifestyle

St. Louis 2012 Visa National Gymnastics Championships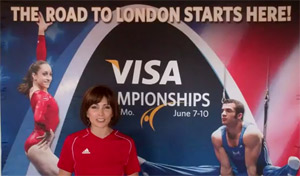 If you're going to be in the St. Louis area June 7-10th make sure to get your tickets to the 2012 Visa National Championships!  It's going to be an incredible competition with the best athletes the USA has to offer. This is a huge step in the selection of TeamUSA for the London Olympics so come cheer on the men and women who are vying for a position on the 2012 Olympic team.
And make sure to get your radio. I'll be doing the in-house radio show with David Durante during the senior competitions each evening. If you've got questions, tweet me during the meet  @SMillerGold!

Good luck to all of the gymnasts!
Please follow this link to get your Visa Champs tickets NOW: http://bit.ly/wZy3MD