Shannon Appears on "Marie" on the Hallmark Channel
Author: Shannon Miller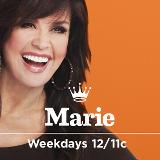 Olympic gold medalist and Edmond native Shannon Miller is scheduled to join host Marie Osmond on an episode of the weekday talk show "Marie," airing at 12/11c. Thursday, April 18 on Hallmark Channel.
Marie welcomes Olympic gold medalist Shannon Miller who opens up and shares her personal struggles battling ovarian cancer.
Shannon talks about her incredible journey, and how she is now cancer free and miraculously expecting her second child.
Shannon also shows some of her exercise moves from Shannon's workout video, "Fit Pregnancy".