Shannon Honored at the Women of Distinction Luncheon
Author: Shannon Miller
Women of Distinction Luncheon, presented by Publix Supermarkets Charities, to honor Shannon Miller.
The Women of Distinction Luncheon honors six local women whose accomplishments in careers and community service exemplify the values of Girl Scouts of the USA.
The luncheon will be held Thursday, April 11, from 12 Noon until 1:30PM, at the Hyatt Regency Jacksonville Riverfront, in Downtown Jacksonville.
The 2013 Women of Distinction honorees are (not same order as in picture):
Shannon Miller
Jill Langford Dame
Estelle W. McKissick
Rita Perry
Cindy M. Sanborn
Isabelle Owen Spence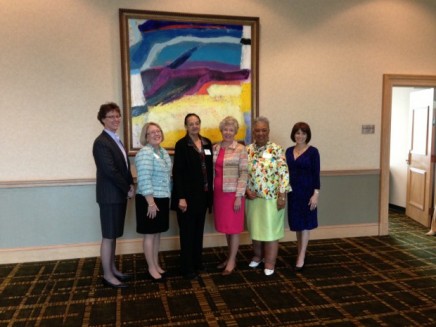 This Women of Distinction Luncheon, in its 24th year, is a feel good, motivational event, and not to be missed.
Proceeds are dedicated to providing the Girl Scout Leadership Program to area girls.
By attending and supporting the event, you help to provide the Girl Scouting experience to girls in Northeast Florida, regardless of their families' ability to pay.
For more information or to support Girl Scouts, please visit Girl Scouts of Gateway Council.