Shannon Miller Awarded 2013 Franklin Award for Distinguished Service
Author: Shannon Miller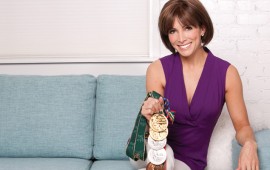 For media inquiries:
Lauren Domené, Shannon Miller Lifestyle
877-344-8502
OLYMPIC GYMNAST, CANCER SURVIVOR RECEIVING PRESTIGIOUS AWARD
 New York, NY. – September 10, 2013- Olympic gold medalist and health advocate Shannon Miller has earned the esteemed 2013 Franklin Award for Distinguished Service, the industry's highest recognition to an individual given by the Printing Industries Alliance.
The Printing Industries Alliance (PIA) will host a very special evening on Tuesday, September 17, 2013 at The Lighthouse at Chelsea Piers in Manhattan. The Franklin Event is recognized as the highlight event of the graphic communications industry. For over the past half century, their $20 billion community has presented the prestigious Franklin Award for Distinguished Service and Power of Communications Awards to world and industry leaders in acknowledgement of their outstanding accomplishments and contribution to national and international culture.
Since its inception in 1952, a variety of luminaries including numerous U.S. presidents, diplomats, statesmen, politicians, business leaders and other prominent Americans and world leaders have become Franklin Award recipients. Among them are Harry Truman, Dwight D. Eisenhower, Norman Rockwell, Walter Cronkite, Margaret Mead, John Glenn, James Michener, Michael Bloomberg, Christie Whitman, Malcolm Forbes, Clive Davis, and now Shannon Miller.
PIA's Franklin Committee feels that the 2013 Franklin Award should be given to Miller as one of the most extraordinary athletes and worldwide Olympic champions in history. PIA says, "As an icon of sportsmanship in its purest form, (her) lifetime body of accomplishments, dedication and courage has contributed to a more insightful international understanding of the American 'can do' spirit—one that will forever shine as a beacon of the many freedoms our nation provides."
Also being honored will be three Power of Communications Award recipients: John Tempest (posthumously for Printing); Jeannette Rivera-Ramos, Manager, Sourcing and Procurement, Verizon (for Advertising) and Anthony Cenname, Publisher, WSJ Magazine (for Publishing). These awards were created to recognize individuals who have positive influence and creative excellence within the graphic communications industry.
###