Shannon Miller Emcees St. Vincent's HealthCare Heart Disease Survivor Event
Author: Shannon Miller
FOR IMMEDIATE RELEASE
For more information, contact:
Katie Barnes
Marketing and Public Relations
Shannon Miller Lifestyle: Health and Fitness for Women
(877) 344-8502 (office) / (904) 599-2171 (mobile)
Katie@ShannonMillerLifestyle.com
Olympic Medalist Shannon Miller to Emcee the St. Vincent's HealthCare Ladies Night Out – Follow Your Heart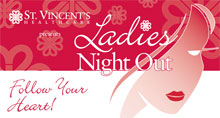 JACKSONVILLE, FL, Dec 14, 2010 – Seven-time Olympic Medalist Shannon Miller will emcee "Ladies Night Out – Follow Your Heart", presented by St. Vincent's Healthcare on Thursday, February 17, 2011, from 6 – 9 p.m. at the St. Johns Town Center in Jacksonville, Florida.  This will be a grand celebration of women and men who have fought heart disease.
St. Vincent's mobile AngioScreen unit will be at the St. Johns Town Center February 17 from 12-9 p.m.   An Angioscreen is a simple, non-invasive vascular screening designed to provide anyone with information about their circulation and risk of heart disease and stroke.  The screening takes 10 minutes and is just $75.  Appointments are recommended.  To make an appointment for an AngioScreen on February 17, call (904) 308-7428.
St. Johns Town Center will be blocking off the street near Pottery Barn Kids for this grand event that is free to the public and includes attractions such as: Heart health education from St. Vincent's HealthCare and the American Heart Association, free glucose, cholesterol and blood pressure screenings, free echocardiograms (sonogram of the heart), live exercise demonstrations from the YMCA, free event photos and giveaways, free chair massages from Natural Body Spa & Shoppe, free makeovers courtesy of Sephora, free samples of heart healthy, gourmet guacamole from Cantina Laredo, free samples from Smoothie King, 95.1 WAPE radio will live broadcast from the event, Olympic gymnast Shannon Miller will emcee the event and sign autographs, enter to win a designer watch from Levy Jewelers, and a Claude Nolan Cadillac car display with great weekend getaway prizes.
Throughout the evening, there will be inspirational fashion shows, featuring women and men who have battled heart disease, physicians and nurses who care for heart patients, and family and friends walking in memory of a loved one.
ABOUT SHANNON MILLER
Shannon Miller is the only American to rank among the Top 10 All-Time Gymnasts and is the only female athlete to be inducted into the US Olympic Hall of Fame twice (Individual 2006 and Team 2008). Among her career highlights, Miller has won an astounding 59 International and 49 National competition medals, over half of which are Gold. She is the only US gymnast to win two World All-Around Titles. Her tally of five medals (two Silver, three Bronze) at the 1992 Olympics in Barcelona, Spain was the most medals won by a US athlete. At the 1996 Games in Atlanta, GA, she led the "Magnificent Seven" to the US Women's first ever Team Gold and for the first time for any American gymnast, she captured gold on the balance beam.
Miller is now President of Shannon Miller Lifestyle: Health and Fitness for Women, as well as an author, television personality, and host of Shannon Miller Lifestyle Radio presented by St. Vincent's HealthCare (https://www.shannonmiller.com/sml-radio). She holds a BBA in marketing and entrepreneurship from the University of Houston and her law degree from Boston College. She founded the Shannon Miller Foundation dedicated to fighting childhood obesity and is Co-Chair of the Florida Governor's Council on Physical Fitness.
Miller continues to travel the country as a highly sought after motivational speaker and advocate for the health and wellness of women and children. Shannon and her husband welcomed their first child John "Rocco" on October 28th, 2009.
ABOUT SHANNON MILLER LIFESTYLE
The mission of Shannon Miller Lifestyle is to inform, educate and inspire women to lead a healthy and balanced lifestyle. Through books, DVDs, motivational speaking, a weekly call-in radio show, and website https://www.shannonmiller.com/, Shannon focuses on opening the lines of communication and reminding women that it is okay to ask questions, demand answers, support each other and have fun along the way. Shannon Miller Lifestyle is targeted to women with a focus on pregnancy and motherhood.
Shannon Miller Lifestyle and Tom Bush Family of Dealerships have launched a free walking fitness program with online tracking and rewards https://www.shannonmiller.com/walk-fit/, to help people achieve a healthy and balanced lifestyle.
Shannon Miller Lifestyle products currently available at https://www.shannonmiller.com/store and www.amazon.com (keyword: Shannon Miller Lifestyle).