Shannon Miller: From Olympic Gold to Gold-Medal Motherhood
Author: Shannon Miller
Champion gymnast Shannon Miller, 33, on balancing a new baby with life beyond the balance beam.
By Irene Kwan on Workingmother.com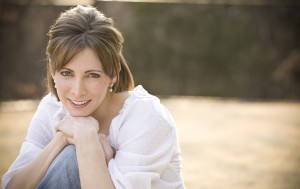 Not long ago, Shannon Miller could leap down the balance beam and gracefully land on one foot. Now, she's learning to master a whole new balancing act: motherhood. Ever since the seven-time Olympic medalist (two gold) and nine-time World medalist gave birth to son John Rocco last October, Shannon finds that "motherhood is taking over my work schedule. When I look over and see loads of laundry and piles of dishes, I just get side-tracked—not to mention that when I finally get to my work, I just stare at the baby video monitor and 20 minutes go by and no work has gotten done!" The new mom adds, "I feel for all the other mothers who work from home."
Read about how Shannon and other famous moms give back here
Just what is the most decorated U.S. gymnast up to when she's not cuddling her baby, breastfeeding and changing diapers? Continuing her work as an advocate for women and children's fitness and wellness. Shannon recently authored a series of fitness books for on-the-go women that they can "throw in their gym bag or travel carry-on case." She's prepping a new website due to launch this summer, ShannonMillerLifestyle.com, where women can find information on health, wellness and fitness. And her organization, the Shannon Miller Foundation, remains steadfast in its mission to prevent childhood obesity. "I've grown in my passion for what I do because of my son, and I have more of a voice now because of him," she says.
Busy as she is, she's enjoying her time as a new mom—even with the occasional drama it brings. New to the demands of milk production and pumping, she faced a scenario many nursing working moms can related to: "There was this one time, I was trying to stay covered while pumping in the back seat of a car going to an event!" Luckily, her husband, business executive John Falconetti, and baby Rocco's grandmother are both around to help with bottle feedings, allowing Shannon to take breaks and sneak in some "me time." Shannon urges all moms of infants to enlist a family member or trusted friend to help watch their baby. "If you don't schedule time for yourself, there's always going to be something else going on," she says. "If you do, you'll feel better and more prepared to take care of your child." And though she confesses that she's actually "shy and close-lipped about asking for help," she learned early on, "when you're not getting sleep and your hormones are raging, it's critical to ask others for help."
Shannon and husband John have worked out a pretty good schedule. During the day, she watches Rocco and takes care of the laundry, and John fills in during the evenings with bedtime and diaper changes. "He's been great about stepping in and helping me out and running errands," Shannon says. "He'll say to me, 'Hey Shannon, let me have some guy time with Rocco,' so I can get out and do some shopping, or he'll call a couple of my friends and tell them to 'make sure Shannon goes too.'"
Ever the health advocate, Shannon took advantage of her pregnancy to write a healthy prenatal cookbook, with recipes by Chef Jessica Bright. She also filmed two DVDs for pregnant women on how to achieve prenatal and postnatal fitness. And now Shannon is the spokesperson for BabyPlus, a prenatal education system. "All parents want the best for their child and to give their baby every opportunity to succeed. She recommends that "if you can start at 18 weeks prenatal, then go for it."
In the midst of all her personal and professional endeavors, Shannon reflects back on what she's gained through her years of training. "There are so many life lessons that I've learned through gymnastics," she says. "The biggest is to never put limits on yourself, because others are always going to tell you why you can't or shouldn't do something. It's your job to convince yourself why you can do it." The Gold Medal mom hopes her son will live life just as she does, knowing that anything is possible.