Shannon Miller is Celebrity Judge for Ultimate Chef America
Author: Shannon Miller
Brookdale Senior Living seeks to Crown the Ultimate Chef of America with a culinary competition contest.
Shannon joins Jeremy Bloom and Fred Funk for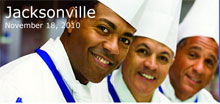 Ultimate Chef America, a dynamic culinary competition event which embraces all of the dimensions of Optimum Life® for participants and attendees.  Optimum Life is a culture within Brookdale Senior Living communities, for both residents and associates, where whole person wellness is achieved through fulfillment in six key dimensions –
physical
emotional
purposeful
social
spiritual
intellectual
The Dining Services professionals of Brookdale Senior Living will entertain and showcase talent during the event for a chance to win the "Ultimate Chef America" title. The recognition and personal pride earned by each participant in this challenging event contributes to his or her Optimum Life.
The Ultimate Chef of America Contest will be in Jacksonville, Florida on November 18, 2010.
One of the most purposeful activities includes an auction featuring food-inspired art created by residents of Brookdale Senior Living communities. Proceeds of this auction will go to the Leeza Gibbons Memory Foundation, an organization which elevates the national consciousness of caregiving and fosters a culture of healthy caregivers impacted by chronic illness through programming, universal access to resources, and behavioral research.