Shannon Miller is Featured Speaker at Living in Digital Times Technology Lifestyle Conferences at 2014 International CES®
Author: Shannon Miller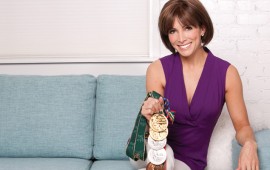 Shannon Miller is one of Seventeen Leading Experts to Speak on The Power of Technology in 2014 at the Living in Digital Times Technology Lifestyle Conferences at 2014 International CES®
New York, NY (PRWEB) December 19, 2013
Living in Digital Times at the 2014 International CES®will bring together more than 230 luminary speakers and 160 cutting-edge exhibitors—a third more than in 2013—to reveal the hottest trends and latest innovations in technology in digital health, moms and kids, baby boomers and seniors, sports and fitness, education, wearables, mobile apps, gadgets, and more.
Gazing into their smart glasses, smart watches and sensors, LIDT asked some of its visionary conference speakers to predict the future and answer this question: What is the greatest impact technology will have on your field in 2014?
ADVANCES IN TECH
"The trends of 2014 were seeds planted in 2013. We can look forward to lightweight, quad-rotor robots (drones, as some call them) finding more uses; 3-D printers starting to appear in the homes of non-engineers; big tech companies inching closer to the formula for a smart watch that people actually want; and, in the wake of the NSA spying scandals, the continued righting of the national ship of trust." — David Pogue, Yahoo; Keynote speaker, Kids@Play Summit
"It's all about combinations and permutations this year! The building blocks of this generation of products are sensors, the Internet of physical things and mobile devices. Whether it's a remote door lock, a brain engagement meter or a digital toy figurine, you're seeing this trifecta of technology create a new class of product." — Robin Raskin, Founder, Living in Digital Times
"2014 will see great advances in technology, as an amazing array of products debut at the 2014 CES, and it's also going to see important legislative and regulatory action. Patent trolls will no longer reap rewards off of pilfering ideas, the Jobs Act will open the market for new investments and of course, we'll all be able to use consumer electronics to have a more enjoyable and productive flight experience." — Gary Shapiro, President and CEO, Consumer Electronics Association
ADVANCES IN DIGITAL HEALTH AND FITNESS
"2014 will be a year when doctors and patients begin to embrace the efficiencies and viability of telemedicine for the management of both acute and chronic illness." — Travis Stork, MD, Chairman of the Medical Advisory Board, MDLIVE & co-host of the award-winning talk show The Doctors; Panelist, Digital Health Summit
"In 2014 we should begin to see compensation systems based on positive health outcomes, rather than procedures. All of these changes are predicated on engaging the consumer and the healthcare system—sometimes individually and sometimes together." — Paul Slavin, Chief Operating Officer, Everyday Health; Moderator and speaker, Digital Health Summit
"Healthcare is going to mutate; hacked by evolution it will become a more efficient version of itself, one where the patient will be discovered as the most underused resource. The grand theory of diagnosis will welcome new players next to doctors: machines, algorithms, patient advocacy communities and the crowd. For centuries we have been reading our health, now we will start writing it; changing it in real time, with mobile input. This Cambrian Revolution of medical devices and apps is the straw that will break the camel's back. Instead of us watching our health all the time, it will be watching us." — Walter De Brouwer, Founder and CEO, Scanadu; Speaker, FitnessTech Summit; Panelist, Digital Health Summit
"Through innovative collaborations and health programs, we are helping to simplify the health care experience for consumers and advance practical workflow improvements for physicians—steps that ultimately make health care work better for everyone." — Dr. Richard Migliori, Executive Vice President and Chief Medical Officer, UnitedHealth Group; Panelist, Digital Health Summit
ADVANCES IN FAMILY INNOVATION
"Technology will continue to become increasingly ingrained in our popular culture. We'll see more and more young girls learning computer science and engineering, although they won't know that's what they're studying. Look for the release of innovative new games and apps that make tech fun and accessible to mainstream society." — Randi Zuckerberg, founder and CEO of Zuckerberg Media; author of Dot Complicated: Untangling Our Wired Lives; Keynote speaker, MommyTech Summit
"Technology and play are inextricably linked for today's kids. However, it's not technology changing play, it is play being enabled like never before through technology. That is the elegance of the latest breakthroughs in technology; it is becoming more and more invisible to users and enabling new experiences." — Eric Levin, division head, Techno Source, a division of LF Products (a Li & Fung Company); Panelist, Kids@Play Summit
"The marketplace is inundated with disruptive technology, such that even dramatic innovations are now viewed as commonplace. We expect inherent tensions to continue to emerge in 2014 as consumers are increasingly drawn to the way things are, driving demand for nostalgia-based products and services, and meaningful connections, and moments free from digital preoccupation." —Sheryl Connelly, global head of trends and futuring for Ford Motor Company; Keynote speaker, Silvers Summit
"As schools increasingly face budget cuts, parents are more concerned than ever with identifying learning solutions that will help their children build school skills. Over the past several years parents have become more comfortable implementing new types of technology such as tablets as a supplemental learning tool at home. However, technology alone isn't enough. It's the ways in which we combine technology and learning to create more engaging educational experiences for kids." — John Barbour, CEO, LeapFrog; Keynote speaker, Kids@Play Summit
ADVANCES IN WEARABLE TECHNOLOGY
"In 2014, the addition of elegant and effective electronics to the product portfolios of sporting goods manufacturers will be significant. The best wearable electronics will engage the user with simple presentation of pertinent biometric information, and ultimately will enable athletes of all levels to proactively participate in their health and wellness-and keep them fit for life." — Paul Litchfield, Vice President, Advanced Concepts at Reebok International; Keynote speaker, FitnessTech Summit
"We need to give context to data in order for the wear-experience to be meaningful and valuable. The ability to tease out new insights from multiple streams of sensor data will bring exciting opportunity in 2014. Wearables that can base-line sport performance and fitness activity then provide individualized feedback to push towards improvement will drive a trend towards individualized, customized exercise plans. It's no longer enough to measure and provide stats, we need to provide coaching, feedback, guidance or alerts." — Stacey Burr, VP Wearable Sports Electronics at adidas; Keynote speaker, FitnessTech Summit
"Wearable technology has changed the way we think about healthy living. For instance, Polar heart rate monitors that students wear in PE classes provide a whole new level of motivation for students—and deeper insights for teachers. With more efforts being put into understanding how our bodies respond to exercise, we'll continue to see fitness technology educate all of us on how to live a more active lifestyle and take control of our own health. The technology won't make us fit on its own, but it can monitor our efforts and motivate us to make better choices in our everyday lives." — Shannon Miller, President, Shannon Miller Lifestyle; Keynote speaker, FitnessTech Summit
ADVANCES IN EDUCATION
"Technology will continue to bring rapid change to the education landscape, specifically in the area of education research. Academic research has been a cornerstone in the higher education community, and the advent of MOOCs has carried the tradition into the digital age. The wealth of data we are able to collect through MOOCs makes it possible for us to learn more about the way students learn. With this data and analysis, we will be able further personalize the learning experience for students, improve learning outcomes both on and off campus, and give instructors additional tools to help increase student comprehension and retention." — Anant Agarwal, president of edX; Keynote speaker, TransformingEDU
"Education is ripe for an amazing transformation…if we let it. Rapid advancements in key areas of technology, like artificial intelligence (AI), neuroscience, data analysis, design and computing are enabling us to expand our knowledge base, while providing valuable biofeedback tools to track and show us how we learn and how we think. Social media platforms, adaptive learning and experimental online education platforms are in the early beta stages of development and we need to see how they perform. Exponential technologies can be valuable tools to speed up the learning curve, but they can also lead to the democratization of education around the world—and that's our goal." — Rob Nail, CEO and Associate Founder, Singularity University; Keynote speaker, TransformingEDU
"Never before has technology had such a central role in changing the way we approach teaching, learning and education more broadly. We're already seeing how adaptive-powered personalized learning technologies are bringing the teacher-student ratio closer to 1:1 and giving teachers powerful tools to customize instruction for individual students. In 2014, we will see a greater emphasis on Big Data with a push to give teachers meaningful analytics and powerful insights." — Stephen Laster, Chief Digital Officer, McGraw-Hill Education; Panelist, TransformingEDU.
For a complete list of speakers and conference agendas, go to http://www.LivinginDigitalTimes.com.
Owned and produced by the Consumer Electronics Association (CEA)®, the 2014 International CES will occur January 7-10, 2014 in Las Vegas, Nevada.
About Living in Digital Times
Living in Digital Times produces conferences and exhibits throughout the year that bring together the most knowledgeable leaders and the latest innovations that intersect technology and lifestyle. Among their many goals is to help companies understand what it means to be a consumer in today's digital world and stay a step ahead in identifying key trends in their given marketplace. Living in Digital Times produces the following summits, exhibitions and events annually at International CES: Digital Health Summit, Silvers Summit, FitnessTech Summit, TransformingEDU, Kids@Play Summit, MommyTech Summit, Mobile Apps Showdown, Last Gadget Standing, FashionWare Show and the KAPi Awards. For more information, visit http://www.LivinginDigitalTimes.com.
About CES
The International CES is the world's gathering place for all who thrive on the business of consumer technologies. It has served as the proving ground for innovators and breakthrough technologies for more than 40 years—the global stage where next-generation innovations are introduced to the marketplace. As the largest hands-on event of its kind, CES features all aspects of the industry. And because it is owned and produced by the Consumer Electronics Association (CEA), the technology trade association representing the $203 billion U.S. consumer electronics industry, it attracts the world's business leaders and pioneering thinkers to a forum where the industry's most relevant issues are addressed. Follow CES online at http://www.CESweb.org and through social media:http://www.CESweb.org/social.