Shannon Miller Joins Cycle For Survival Rides For Third Year
Author: Shannon Miller Lifestyle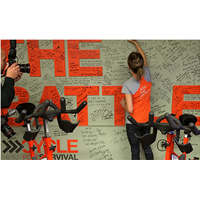 CONTACT:
Kate Murphy
[email protected]
401-578-9895
CYCLE FOR SURVIVAL LAUNCHES 10th YEAR OF EVENTS TO BEAT RARE CANCERS WITH NEARLY $100 MILLION RAISED IN THE PAST DECADE
Every dollar raised nationwide, with support from founding partner, Equinox, will fund research led by Memorial Sloan Kettering Cancer Center
NEW YORK, February 16, 2016—Cycle for Survival, the national movement to beat rare cancers, will begin its annual series of indoor cycling events on Saturday at select Equinox clubs across the country. 100 percent of every dollar raised goes directly to rare cancer research and clinical trials led by Memorial Sloan Kettering Cancer Center (MSK), which owns and operates Cycle for Survival.  All funds raised are allocated to research within six months.
In February and March, instructors from Equinox, Cycle for Survival's founding partner, will lead rides at these high-energy, family-friendly events. Participants include doctors and researchers, patients, survivors, and supporters. Also participating: Seth Meyers, Late Night with Seth Meyers; Kristin Davis, Actress and Philanthropist; Dave Franco, Actor; Alison Brie, Actress; David Eigenberg, Actor, "Chicago Fire"; Randy Flagler, Actor, "Chicago Fire"; Joe Minoso, Actor, "Chicago Fire"; Tony Ferraris, Actor, "Chicago Fire"; Yuri Sardarov, Actor, "Chicago Fire"; Miranda Mayo, Actress, "Chicago Fire"; Kara Killmer, Actress, "Chicago Fire"; Nastia Liukin, Olympic Gold Medalist Gymnast; Shannon Miller, Seven- time Olympic medalist; Brittany Daniel, Actress; Katie Hoff, Olympic Swimmer; Tucker Dupree, Paralympic Medalist and Swimming World Champion.
This year, more than 27,000 riders in 15 cities across the country will participate. They join together to experience a day of heart-pumping music, dancing, tributes, and inspiring stories. The Cycle for Survival community is dedicated to supporting innovative research that will change the way cancer is diagnosed and treated.
Visit www.CycleforSurvival.org to learn more about upcoming events and to find photos and videos.
The 2016 Ride Schedule:
Miami: February 6
Dallas: February 6
Summit, New Jersey: February 6
Chicago: February 20 and 21
Greenwich, Connecticut: February 21
Paramus, New Jersey: February 21
New York City: February 26, March 4-6, and March 10-13
Boston: February 26 and 27
Palo Alto: February 27
San Francisco: February 27
Seattle: February 28
Washington, D.C.: March 4 and 5
Long Island: March 5
Los Angeles: March 5 and 6
Bethesda: March 6
Since 2007, Cycle for Survival has raised more than $90 million for research, earning recognition as the fastest-growing athletic fundraising event in the nation.* By April 1, Cycle for Survival is expected to reach a major milestone by surpassing $100 million raised to beat rare cancers.
About half of all Americans with cancer have rare forms of the disease, which include thyroid, brain, ovarian, pancreatic, all pediatric cancers, and many others. Rare cancer research is typically underfunded—often leaving patients with few or no proven treatments. As doctors and researchers race against the clock to develop new options, Cycle for Survival provides urgently needed funding.
For more information about the 2016 rides, or to join the Cycle for Survival movement, visit http://www.CycleforSurvival.org/
*Peer-to-Peer Professional Forum, 2014 Peer-to-Peer Fundraising Top 30 Ranked by Gross Revenue
QUOTES
José Baselga, Physician-in-Chief, Memorial Sloan Kettering Cancer Center:
"As Cycle for Survival celebrates its tenth year, I want to express deep gratitude, on behalf of everyone at Memorial Sloan Kettering, to the participants and donors who are dedicated to supporting rare cancer research and novel targeted therapies. With 100 percent of every dollar raised going to research, we are seeing incredible progress that will continue to lead to new and better treatment options. I am proud to be a part of this community that is determined to help patients everywhere. I look forward to thanking our participants in person at the New York rides in March."
Scott Rosen, Chief Operating Officer, Equinox:
"Equinox is so proud to be the founding partner of Cycle for Survival. It has become a huge part of our company, and so many of our employees, at every level, participate in this movement. We are determined to do our part to help beat rare cancers. The energy is tremendous at every Cycle for Survival event happening across the country in February and March. I'm pumped up and ready to celebrate with this amazing community at the upcoming rides."
Kat Olin, Cycle for Survival participant:
"I've been part of the Cycle for Survival community since the very first event, which was at one location on one day. When I reflect on that single event transforming into a national movement over the past decade, I am in awe. Surpassing $100 million raised for rare cancer research in just ten years is an achievement every participant can be proud of—whether it's your tenth year or your first. I am excited about all we can accomplish together in the next decade, and beyond, to help everyone fighting a rare cancer."
MORE INFORMATION
Cycle for Survival
Join the Battle. Cycle for Survival is the national movement to beat rare cancers. Since 2007, Cycle for Survival has raised more than $90 million through its signature indoor team cycling events across the United States to help fund pioneering rare cancer research led by Memorial Sloan Kettering Cancer Center, which owns and operates Cycle for Survival. 100 percent of every donation funds rare cancer research. About half of all cancer patients are fighting a rare cancer, and they often face limited or no treatment options. Together with the movement's founding partner, Equinox, Cycle for Survival has supported innovative clinical trials, research studies, and major research initiatives. For a list of events, research updates, and additional information, visit www.cycleforsurvival.org and follow Cycle for Survival on Facebook, Twitter, Instagram, and YouTube.
Memorial Sloan Kettering Cancer Center
MSK—the world's oldest and largest private cancer center—has devoted more than 125 years to exceptional patient care, innovative research, and outstanding educational programs. Today, it is one of 41 National Cancer Institute–designated Comprehensive Cancer Centers, with state-of-the-art science flourishing side by side with clinical studies and treatment. The close collaboration between MSK's physicians and scientists is one of its unique strengths, enabling it to provide patients with the best care available as researchers work to discover more-effective strategies to prevent, control, and ultimately cure cancer in the future. MSK's education programs train future physicians and scientists, and the knowledge and experience they gain has an impact on cancer treatment and biomedical research around the world.
Equinox
Equinox operates 79 upscale, full-service clubs in New York, Chicago, Los Angeles, San Francisco, Miami, Boston, Texas, and Washington, DC, as well as international locations in London and Toronto. The company offers an integrated selection of Equinox-branded programs, services, and products, including strength and cardio training, group fitness classes, personal training, spa services and products, apparel, and food/juice bars. Since its inception in 1991, Equinox has developed a lifestyle brand that represents service, value, quality, expertise, innovation, attention to detail, market leadership, and results. IT'S NOT FITNESS. IT'S LIFE.
CONTACT:
Kate Murphy
[email protected]
401-578-9895