Shannon Now a Part of New Olympic Book: "Glory of the Games"
Author: Shannon Miller Lifestyle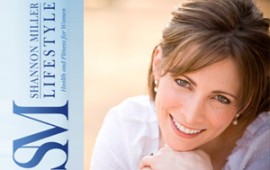 Win a Signed Copy for Mom!

Shannon is a part of this emotionally inspiring book, Glory of the Games, and now YOU can now buy it to share in the excitement for the Games! Available on Amazon.com (print edition and e-book), Barnes and Noble's website, and in all Mardel locations (31 stores in Oklahoma, Texas, Colorado, Louisiana, Kansas and Missouri).
If you'd like to win a signed copy just in time for Mother's Day, fill out your entry below! 
About the Book

The book features Biblical insights from: Chris Byrd, Tamika Catchings, Michael Chang, Kelly Clark, Josh Davis, Ryan Hall, Tobin Heath, Shannon Miller, DeLisha Milton-Jones, Bobby Jones, Dave Johnson, Hunter Kemper, Ruth Riley, Lyndon Rush, Laura Wilkinson, and more. What does it take to become an elite international competitor? Ask one of these athletes that question and you'll hear words such as "determination," "endurance," "focus," "passion," "patience" and "self-discipline." But in the race we call life, there is a greater purpose than winning medals, breaking records and obtaining wealth and fame. The athletes featured in Glory of the Games have come to realize that they have been blessed with athleticism and drive in order to bring Glory to God and share with others the hope that accompanies a relationship with Jesus Christ. The same is true for all of us. Successfully living out that purpose requires biblically sound characteristics such as "humility," "faithfulness," "trust," "integrity," "boldness" and "spiritual discipline." And once those traits are active in our lives, the ultimate goal changes. It's then all about giving God the glory.
About the Author
Chad Bonham has been working in mass media for over 20 years. He has written extensively for such publications as Relevant, CCM, Christian Retailing, New Man, Charisma, Today's Christian, Ministries Today, Breakaway, Brio, Sports Spectrum, Christian Single, Faith & Friends, Sharing the Victory and Gospel Today. Chad is currently writing two feature columns for Beliefnet.com: "Inspiring Athletes" and "Whole Notes: Inside The Christian Music Scene." He has authored or contributed significantly to 12 books including Wrestling with God (River Oak) and the co-authored Spiritual Journeys (Relevant). The first half of Chad's four-book series on FCA's core values released in August 2008 (Integrity and Serving) and the second half released in February 2009 (Excellence and Teamwork) through Regal Books.  Chad and his wife Amy live in Broken Arrow, Okla., with sons Lance (September 2003), Cole (February 2008) and Quinn (February 2011). He attends Hope Church and previously served five years as Youth Pastor for R.U.S.H. Student Ministries. Chad is also a drummer and songwriter for the worship team and has over 30 years experience traveling, performing and recording with various music groups.