The Gold Medal Mindset to Overcoming Cancer
Author: Guest Author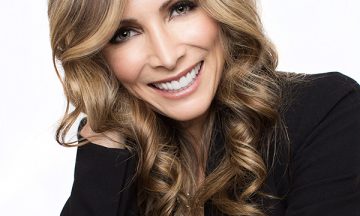 A talk with Olympic legend Shannon Miller
By Jane Wilkins Michael
My mission and my passion have always been to help my readers and listeners look and feel Better Than Before, physically, emotionally, and spiritually. My hope is that through my columns and iHeartRadio talk show, my audience will begin to realize that they have the wisdom, the power, and the courage to see the light through any darkness and follow their dreams—and their own passions—to change their lives for the better!
That said, I was greatly inspired by my recent guest Shannon Miller. Shannon, for her part, remains the most decorated Olympic gymnast in United States history with 7 Olympic medals. (2 gold, 2 silver, 3 bronze). Furthermore, she is the only female athlete to be inducted into the US Olympic Hall of Fame—twice! And who can forget the '96 Games when she led the "Magnificent Seven" to the US Women's first ever Team Gold. And for the first time for any American gymnast, she captured Gold on the Balance Beam.
Today, Shannon, a mother of two, entrepreneur, and much sought-after motivational speaker, still remains a part of the gymnastics and Olympic communities as an analyst and commentator. Her bestselling book, It's Not About Perfect: Competing for My Country and Fighting for My Life, is an inspirational memoir written to encourage others to break through and overcome their own personal challenges.
And Shannon herself knows all too well about experiencing life-altering challenges. Indeed, all her achievements and accolades didn't prevent a devastating diagnosis in 2011. At that time, she was diagnosed with a rare form of ovarian cancer. Thankfully, though, the tumor was successfully removed. That and the follow up protocol of an aggressive chemotherapy regimen has left her cancer-free.
Through it all, Shannon has remained open and public about her cancer journey and continues to empower women to make their health a priority. She continues to be a strong advocate for early detection, awareness, research and survivorship and the importance of health and fitness.
Below, Shannon and I chat about what it takes to enlighten, empower, and improve our everyday lives no matter what curveballs may be thrown our way:
JWM: How has your experience as an Olympian prepared you for adversity in your personal life?
SM: Preparing for the Olympic Games and training for competition in general teaches you so many wonderful life lessons: the importance of setting goals, teamwork, positive mindset, getting back up after a fall and so many more. While training for the Olympics was rigorous, something that was years in the making, those tough moments truly prepared me for the biggest challenge I have ever faced, my diagnosis and treatment for ovarian cancer.
JWM: September was Ovarian Cancer Awareness Month. Can you share how you were diagnosed with the disease?
SM: Ovarian cancer is the fifth most common cause of cancer death in women, and approximately 22,000 women are diagnosed with ovarian cancer in the United States each year. I was diagnosed with ovarian cancer nine years ago. My doctor found a baseball-sized cyst on my left ovary, which several weeks later, would be diagnosed as a rare form of ovarian cancer. I now know that I was experiencing the primary symptoms of ovarian cancer, including extreme bloating and terrible stomachaches, but at the time, I attributed them to something else. Nothing too serious. I also thought my weight loss was simply losing baby weight after I had our son.
For me as an advocate for helping women make their health a priority and an athlete who knew the importance of listening to my body, it was a wake-up call. During diagnosis and treatment my life was basically on hold. My goals went from competing for a gold medal to waking up each day focused on getting dressed and walking twice around the dining room table. It was a new normal that I was trying to navigate. I wish I had had more people to talk with about the experience. I had never known anyone with ovarian cancer.
That's one of the reasons I'm so honored to continue working with GSK on Our Way Forward—a program that encourages women with ovarian cancer, along with their loved ones and physicians, to rethink how we talk about ovarian cancer. It creates a community and conversation in a way that truly focuses on the patient experience. It helps you understand that you are not alone.
JWM: Can you tell us more about Our Way Forward?
SM: Our Way Forward was created by GSK, and is a call-to-action for patients, their loved ones and healthcare providers to rethink how we talk about advanced ovarian cancer and ways to partner together to navigate the physical and emotional challenges that the disease brings to everyday life.
JWM: Why are you passionate about working with GSK on Our Way Forward?
SM: Having gone through an ovarian cancer diagnosis and experiencing the emotions that come with it, I want to help ensure that other women are aware of the signs and symptoms of this disease and the support and resources that are available to them. During my experience, I wish there were more stories and people I could connect with, which is why I think the Our Way Forward program is so important.
JWM: Where can women facing ovarian cancer or those caring for a loved one go to learn more?
SM: Everyone's experience is different. I would encourage anyone facing ovarian cancer and their loved ones to visit www.ourwayforward.com to access resources, to hear from others with similar stories, to support their loved ones and help them feel empowered, and open the lines of communication with their care team.
JWM: Thank you Shannon Miller for sharing your invaluable advice, tools and insights on what it takes to be Better Than Before forever more!
View Full Article: