Walk-Fit Presents New Monthly Walking Meet Ups
Author: Shannon Miller Lifestyle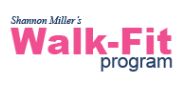 The Holiday Season is upon us!
This year, don't wait until New Years rolls around to start a fitness plan – Start Now!
Shannon Miller's Walk-Fit program is starting monthly meet ups just in time for the holidays. These meet ups will run for the next few months and are a great way to get out, meet some new people and get walking. Whether you are just starting a fitness program or just looking for something to add to an already established fitness program, these meet ups are for you! Each month we will be hosting a meet up in a different area of Jacksonville. We will be posting the meet up details on our Meetup.com group, Facebook, and right here on ShannonMillerLifestyle.com each month.