Believing in Yourself as a Mompreneur: Founder of Me2Roo
Author: Shannon Miller Lifestyle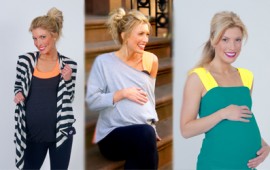 Absolutely loving this pregnancy clothing line from Maggie Zembruski, the founder of Me2Roo.
This mompreneur realized that wearing her husband's shirt to the gym was NOT cute. So, channeling her passion and her love for bright pops of color (a big fashion trend right now), Maggie set out to create a pregnancy clothing line for moms and mom-to-be that was comfortable yet sassy. Take a look at how she enacted her dreams!
SML: How and when did you form your company?
MZ: Since the announcement of  my son followed by my daughter in less than sixteen months I was forced to sneak into my husband's t-shirt drawer in hopes of scoring something appropriate to wear to the gym that would cover my belly without advertising a college pub crawl or professional athletic team. My "Ah-Ha!" moment swallowed me like a mothers intuition – Me2Roo was born in October 2010.
SML: What makes your products or services different than anyone else's?
MZ: Created with expectant mothers in mind, me2Roo concerted the "color therapy" theory within the designs.  The collection includes an assortment of flattering bottoms, the tennis skort, vibrant athletic tops with splashes of neon, cozy layering wraps, comfy shrugs, complementing tunics and more that takes you from working out to working lunches.
Available in black/hot pink, teal/canary yellow and heather grey/neon orange, bold colors were specifically chosen as "mood enhancers". Colors have long been recognized for their healing, inspiring and restorative powers. me2Roo's color combinations can help invigorate or calm the roller coaster emotions associated with pregnancy.
SML: What was the biggest challenge or setback you had when forming it whether it be time-wise, financially, or emotionally?
MZ: Balancing the demands of starting a new business and having a very young family. I had to set time aside for being a mom and time for being a business woman. Never try to mix them together.
SML: What's the one piece of advice you wished you had when you got the idea to start your own business?
MZ: Be realistic with my expectations and let things go. When the time is right it will happen.

SML: What has your best memory or happiest moment since you started your business venture?
MZ: Being selected by WWD Magic as an emerging designer and showcasing my collection at the Las Vegas Magic tradeshow. It was an amazing experience to be surrounded by such incredible talent.

SML Fun Question: If you could go back in time to meet any other famous mom (Mompreneur or not!) in history who would it be and why? OR What's one trick you have for getting your kids to do something you want them to do when they don't want to?
MZ: I take great inspiration from Sara Blakely founder of SPANX. She started with a very unique idea, $5,000 & tremendous ambition. It all starts with a idea and in this case it was a billion dollar idea. Love her!
SML: Is there anything else you'd like to share about your company or to mom's that have a great idea and don't know where to start?
MZ: A mother's intuition is a pretty powerful thing, and I believe it does not stop at our children. Believing in your idea is half the battle, but do your research.
One lucky winner will win an adorable Me2Roo Charlotte top ($72 ARV)! Good Luck!
 About Me2Roo


New Jersey-based Me2Roo was founded by Maggie Zembruski in October 2010.  Zembruski was born with a passion for fitness and fashion where no stiletto was ever too high, even in her ninth month of pregnancy.  After leaving her job at Louis Vuitton Moët Hennessy, Zembruski went on a mission to combine her passions in life with her newly loved job: motherhood.  Zembruski's belief in a "happy, healthy mommy = happy, healthy baby" is channeled through her clothing line to inspire women to exercise and feel positive about themselves along with the changes their bodies experience pre and post pregnancy.
Social Media links:
Facebook: http://www.facebook.com/maternity.activewear
tweet me: @me2roo