Budget Friendly Nursery Ideas
Author: Shannon Miller Lifestyle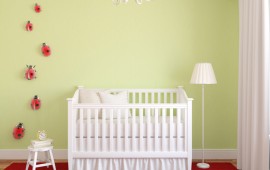 Babies can be expensive!
But just because you are on a budget does not mean you need to sacrifice function for your baby's nursery. Classic, elegant, and cute nurseries do not have to come at a high price! We have come up with a few tips to help you create a nursery on a budget for your little one!
Go For a 3-in-1 Crib
When choosing a crib, go with a 3-in-1 or a convertible crib, which can be used as a crib, toddler bed, as well as a full size bed. Most cribs on the market today are convertible to at least a toddler bed, but going for one that converts to a full size bed as well will prevent the need for you to buy a new bed frame later on. This one from Graco is a fantastic and inexpensive crib that will last you. The only "catch" with these types of cribs is that there may be a conversion kit sold separately or in the case of this particular crib, you will need to buy the mattress frame when converting to the full size bed.
Collect Pieces Over Time
You will be pregnant for 9 months! Instead of going for the matching furniture set, use individual pieces that you collect over time. It will not only save you, but it can also give your nursery a great eclectic look too! Try garage sales, flea markets, or local buy, sell, and trade pages on Facebook! You never know what you will find! Extra bonus here if you are handy with sanding and refinishing furniture!
Repurpose Pieces You Already Have
Have an old dresser in the guest bedroom that would work for the nursery? It could double as a dresser and changing table and you could even paint it to match the nursery perfectly. What about the rocking chair you have had in your living room for ages? A fresh coat of paint and some custom cushions can repurpose it into a "new" rocking chair for your nursery!
Paint
Paint can transform any space at a pretty low price. Shoot for a soft color in baby's nursery and if you are adventurous try some stripes, chevron, or a focus wall of a different color. Be creative!
Add a Rug for a Splash of Color
Particularly if you have hard wood floors, a rug is a must! It will provide a soft place for baby to play and it will provide a splash of color. Even if you have carpet, a rug will do wonders to brighten up the space and help to prevent any stains on the carpet.
A Storage Ottoman Doubles as an Extra Seat
Particularly if you have a small room to work with, trying to find the space for an extra seat can be a challenge. A storage ottoman is a great solution that you can easily tuck in a corner or use as a footrest for yourself, while it also serves as an extra seat if you have a visitor or if daddy is helping with a middle of the night feeding and change.
Use Storage Wisely
You will want to keep your baby's nursery as organized as possible. Babies have many little things that can get lost easily if not kept in the right place.  You can do it affordably by building shelves on the walls, or extra shelves in the closet. Open cube storage shelves with collapsible totes work extremely well for storing all those little baby things like burp cloths, bibs, clothes, shoes, and toys. As your child grows they can double as bookshelves as well.
What are some of your favorite tips for keeping a nursery cute on a budget? Share with us in a comment below!