Creative Ways to Announce You're Pregnant
Author: Shannon Miller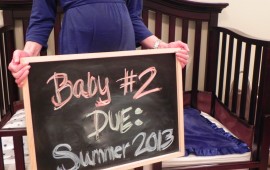 Amid the latest baby announcements in London and Hollywood, Team SML got together to find some fun ways to announce a new addition to your family.
SML Women may not be movie stars or princesses, thus many don't want to keep it a secret for very long. One thing is for sure whether you're a star or not: no one wants to share the happy news with family the same way the neighbor did. Or *gasp* through a text message or blog post! Some options only work only if you have a little one already, but others work anytime! (And don't forget that pets are family, too!)
Here are our top five picks of creative ways to share pregnancy announcements:
1) Channel Your Inner Director
If you love being super creative and have a little time on your hands (we said a LITTLE!), go bold with a movie trailer reliving the journey to this joyous time. It can be funny, romantic, travel-themed, or whatever you like! It's relatively easy with a template like the one we used with iMovie. If you can't get a hold of a Mac, Windows Movie Maker is a free editing software for PC.
Check out Shannon's:

2) Be the Star in a Photo Shoot
Pinterest is awesome for moms-to-be with little time or creativity. We simply searched "baby announcement" and tons of cute stuff came up. Use your pets, chalk, picture frames, balloons, hats… anything!  What do you think of our take on this fun, photoshoot?
3) Shoot a Documentary
If you're not savvy with editing and would rather have a raw documentary-style approach, catch the genuine reactions of your husband and little one(s) on home video through a flip cam or even your cell phone since most are HD nowadays. You could pretend you're filming for a family reality show! This will become a treasured heartfelt home video for ages… like these!

4) Give Rather Than Receive
You could even share the joy by sharing a gift. Hold a contest to guess the gender of your new addition or the due date and time via social media and give out prizes for those who choose correctly! Yes, this contest below is REAL, so enter! Winner will receive a prize pack full of pregnancy goodies:
5) Do it the Old-Fashioned Way (from Shannon)

Sometimes people need it straight and to the point, so here goes. If you haven't guessed by now, this is my way of sharing the news with all of you. Yes, I'm expecting!  We are so blessed to add a new addition to our family.
Social media is a terrific way to stay in touch with friends and family throughout your pregnancy when you want to share news or get some advice. You can even start a blog! I've just started my baby blog right here and hope that you'll join me there to talk babies, motherhood, the latest products and share stories and advice.
Dare to Dream,
Shannon