Getting Back into Pre-Baby Shape
Author: Shannon Miller Lifestyle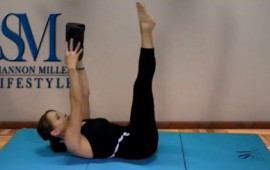 We all want to fit back into our pre baby clothes after we welcome our bundle of joy.
We also want to feel fit and strong again. You'll want to take those first 6 weeks to let your body heal. Don't try to rush into it. But once you're cleared to work out here are a couple of my favorite ways to get back in shape.
This move is called the ball pass and it's a great way to work your upper and lower abs as well as your arms and inner thighs. Grab a ball or small pillow or towel like I have. Lie on your back with your feet toward the sky. Place the ball between your ankles. Next you'll slowly lower your arms and legs to the floor. Then, without touching the ground, pull your arms and legs back up to meet in the middle passing the ball.
This is a really tough exercise, so if you aren't quite there yet, don't worry. Just modify the exercise by allowing your feet to rest on the ground.
My other favorite thing to do is just to get out and play! This is great, especially if you have other small children. It's a great way to spend some family time outdoors, with some fresh air and vitamin D. You'll be burning calories playing tag and kickball. Make up your own games, but just keep moving!
For more great ideas and exercises that will help you get back to your pre-baby shape purchase my Body After Baby DVD available on my website ShannonMillerLifestyle.com, at most Target stores and on Amazon.