Halloween-Time Craft Ideas
Author: Shannon Miller Lifestyle
Looking for a new and fun way to decorate for Halloween?
How about crafting; something the kids can help you with?
Here are some crafting projects to do with your children, to get into the spirit of this time of year.
1. Don't carve that pumpkin, Paint it!
The trend this year is to paint, not carve, your pumpkin. Ideas? Keep it simple with a metallic spray paint, white wash, or glitter paint. Add some interest with a pattern design, like stripes or dots. Add stones and beads to make them fancy. Design some with fun quotations, like "Off With Her Head" or "Shh…You'll wake the Dead!" A cute idea for  kids would be to make a few pumpkins into a spider or a caterpillar.
Source: SheKnows.com
2. Decorate your treats.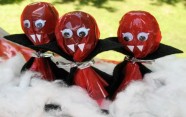 Candy is so plain. Dress your candy up, perhaps like vampires, for this Halloween.
This idea, from Kaboose.com, is to wrap lollipops in cellophane, and give them felt capes, tied with twist ties. Add eyes and little white felt triangle teeth.
3. Keep an eye on your guests.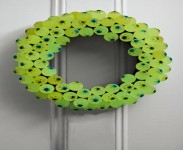 Glue rubber "eyeball" balls to a simple wreath form, and you have an eerie eyeball wreath.
This idea comes from Country Living. Purchase eyeball ball in bulk from companies such as Oriental Trading, and get a wreath form from a craft store. Voila!
What are some of your favorite Halloween craft projects? Let us know on Facebook or Pinterest!