Mommy and Me Fitness
Author: Shannon Miller Lifestyle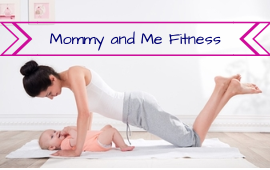 Finding time to exercise after baby is difficult!
While it might be the furthest thing on your mind when you have a new little one who is taking up all of your time, making time to exercise is beneficial to your health. If you find it hard to tear yourself away from your precious little one, Mommy and Me Fitness can be a great tool so that you don't have to choose between spending your time exercising over time with your little one.
Fitness After Pregnancy is Important!
Most doctors recommend you wait at least 6 weeks after giving birth to begin exercising, however, if you had complications, your doctor may recommend waiting a little longer. You should always start slowly and listen to your body! If you are feeling pain, ease up, or wait a while longer.
Postpartum exercise has a number of benefits, including:
Losing the "baby weight"
Boost your energy
Reduce your risk of depression
Improve your mood
Relieve stress
Restore muscle strength and tone
Improve your cardiovascular fitness
Set an example of good health for your child
Mommy and Me Fitness Makes Fitting in Exercise a Bit Easier!
Working out with your baby creates a boding experience between the two of you and helps you to instill the importance of exercise in your child's life from early on. It also allows you to create stimulation and a learning experience with your young child. As your child grows, they will want to imitate your movements and will be learning yoga or pilates before you even realize it.
Where Do I Start?
Beginning an exercise is always the mist difficult part! Start your exercise regimen slowly by taking your baby on a walk and doing some stretching with your baby on the floor with you and make it fun by interacting with them! Once you are up to increasing the intensity, yoga and pilates are great to add into your routine!
Here are a few exercises to do with baby:
Baby Bicep Curl: Hold your baby in front of you with both hands. Lift them up so you can give him or her a kiss and then lower your baby back down to start. Repeat 8-10 times for 3 sets–if your baby's patience will allow!
Push-up Kisses: Assume your push-up position over your baby as he or she is lying on the floor. When you come down to perform your push-up, give your little one a kiss before pushing yourself back up again.
Super Tummy Time: While your little one is working on his or her very important tummy time, you can join your baby on the floor, too, by performing a superwoman!
Baby Bridge: Lie on your back, knees bent, feet flat on the floor with your baby held securely on your lower abdomen. Squeeze your glutes as you lift your hips off the floor. You are toning that tush while letting your little one have a fun ride.
Babywearing Squats: Grab your favorite Soft Structured Carrier, Ring Sling, or Wrap and wear your baby! Then do some basic squats. Use a chair, table, or countertop to help keep your balance if necessary. And for an extra tip, babywearing counts as tummy time too! Just be sure baby is in an ergonomically correct carrier and facing you. This will give baby some up close face time with mommy and is a great time to talk to your baby too. If you are new to babywearing, check out The Hodgepodge Darling for a great tips for beginners and a breakdown on different types of carriers!
What are your favorite exercises to do with baby? Share with us in a comment or on our Facebook!