Mompreneur piece: Oilo President and CEO, Annalisa Thomas
Author: Shannon Miller Lifestyle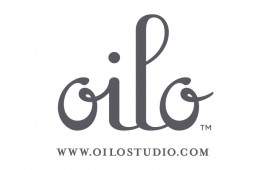 Meet Annalisa Thomas, President and CEO of Oilo™
Annalisa and her mother, Dorte Anderson founded Oilo, LLC, in 2009.  The Oilo Collection includes style-setting high quality designer inspired baby nursery décor, baby, twin and full/queen bedding, lighting, home furnishings, wall art, organic layette, car seat canopies, diaper change pads/covers and play blankets.  Though not an actual word, Oilo's name is derived from a combination of Hawaiian words, "lio" (small sprout) and "ho'oilo" (the cool, rainy season).  The Oilo name personifies the image of relaxing and enjoying the serenity of life.
Shannon Miller Lifestyle: How and When did you form your company?
Annalisa Thomas: I founded Oilo in 2009.  I've always loved art and design. Apparently my parents picked up on this pretty early because they put me in more art classes growing up than I could possibly count. I enjoyed fine art but it wasn't until college that I found my true first love…
My first year of college I declared graphic design as my major not having a clue what graphic design really was, but it sounded fun. After a year of trudging through generals, I finally met the requirements to take my first graphic design class. We had to design a brochure and packaging for a "pretend" company. I loved it. I would stay up late researching my projects, which included things I had always loved—design, color, texture, all of which are deeply influenced by interior design and fashion, which I also love to keep a close eye on.
In graphic design there are pretty much two main roads you take out of school. The corporate world or the advertising agency world. I chose the corporate world. Most corporate jobs can be mundane for designers, but mine was filled with so many great design projects and I loved being involved in the business end, an area I came to love as well.  Looking back it prepared me well for Oilo, as it was a manufacturing company.
Five years later I was pregnant with my first baby. Although I knew my job would most likely let me work from home I always had wanted my own company and I knew this was my chance to venture out on my own. During this same time I was also researching designs for my own baby's nursery. Although there are great designers out there I wanted something a little different. Before I knew it, a few sketches turned into fabric and fabric turned into crib bedding and Oilo was born. I quit my job and have never looked back.
SML: What Makes Your Products or Services Different Than Anyone Else's?
AT: At Oilo we design with the mom in mind. As a mom I've spent countless hours in my baby's nursery. I want the nursery to be a place where I can close the door and find peace with my baby.
Oilo is all about offering parents a chic, new solution for fashionable home décor at an affordable price.  Our distinctive collection of high quality designer level products includes bedding, furniture, lighting, wall art and some other items that feature clean, simple and sophisticated design. Oilo's products are designed by myself and company co-founder, my mother Dorte Anderson.  My mom brings to Oilo more than 25 years of interior design experience specializing in custom décor and my background is graphic arts so our talents complement each other and we make a great team.
SML: What was the biggest challenge or setback you had when forming it whether it be time-wise, financially or emotionally?
AT: Gosh, all three of those are definitely huge challenges. Starting a company is hard work and you have to prepare to work a lot of long, long hours—especially in the beginning. 6 weeks after I had my second baby our products were supposed to ship so we were hiring and training while I was trying to take care of a newborn. Luckily she was a very good baby, but looking back I realize I was also suffering from postpartum depression as well. It was a difficult time, many late nights with a baby and a new company and I just couldn't do it all. This is when my husband made the decision to quit his job and work for Oilo full-time and thank goodness as it definitely saved me.  We launched Oilo during the economy's  lowest years so of course there have been some financial challenges.  Our launch timing was stressful, but it also helped us to only put our money where it really needed to go. We carefully watched every single dollar and now I'm glad because we made some smart decisions early on and don't have a huge amount of overhead like some companies do.
SML: What's the one piece of advice you wished you had when you got the idea to start your own business?
AT: To work around your own schedule.  I used to think that in order to get a good day's work in I needed 8 hours straight of peace and quiet. I've realized as a parent that this is not only not possible, but I'm actually not as effective when I work in 8 hour blocks. I've come to the realization that you can actually get a lot done in a day even if it is in 15 minutes blocks of time.
SML: What has your best memory or happiest moment been since you started your business venture?
AT: I loved the beginning stages when it was just my sketchbook and me. There were no deadlines and I felt so free. I also loved going to our first tradeshow where we met a lot of the buyers. It was exciting and fun to be there, see their reactions to our line and there was so much energy. But I also love it now. There aren't nearly so many extreme up and down emotions. It's just a steadier pace, which I love.
SML: Fun Question: What's one trick you have for getting your kids to do something you want them to do when they don't want to?
AT: I trick my kids into thinking certain chores are games. The other day it was almost bedtime and the laundry had still not been put away. So I said let's race to see how fast we can put the laundry away. They ran through the house like tornados giving Dad his clothes to hang, then scrambling to put their socks in their sock drawers, etc. We did it in record time and they thought it was so fun (suckers! J). They are only 5 and 3 though so this trick still works!
SML: Is there anything else you'd like to share about your company or to mom's that have a great idea and don't know where to start?
AT: People always ask me how did you know where to start? The truth is I didn't. Once you kind of have a foot in the door, it's easy to find the right people from there. It's just finding that door. And it will take some serious determination to find it, which is good. It's tests how really important it is for you.
About:
Annalisa Thomas founded Oilo™ to fill a void in the category for high quality designer look and quality baby nursery décor and home décor without designer prices.  With a degree in arts and background in graphic design, Thomas' passion for creativity brings a fresh new approach to a clean, simple and fashionable look for baby nursery décor and home décor.  Her designs are inspired by her two beautiful children, son Cohen and daughter Kennedy.
For more information visit www.oilostudio.com.
Visit Oilo on:
Twitter | Facebook  | Pinterest | Oilo's Blog