NurturMe Founder and Mompreneur Caroline Freedman
Author: Shannon Miller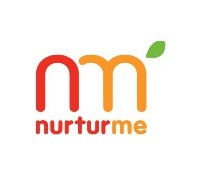 Meet Caroline Freedman:
The CEO of Freed Foods, Inc., a company that she co-founded after recognizing a need for a more versatile, nutrient-rich and eco-friendly alternative to the traditional baby foods on the market. She lives in Austin, Texas, with her husband and their two daughters, Audrey (5), the inspiration behind NurturMe, and Eleanor (1.5).
Shannon Miller Lifestyle: How and when did you decide to form your company?
Caroline Freedman: I had always hoped to be an entrepreneur and my brainwave finally struck when I was pregnant with my first child. I was sitting at home doing research online about what to feed little ones, when you begin the whole process, how it all works… and was surprised to find that not much had changed since I was a little one eating pureed foods out of bulky, glass jars. It struck me that not much had happened in the baby food market in many, many years and that there was lots of opportunity for improvement, given trends towards organic eating, convenience packaging, sustainability… it seemed the time was right to introduce something, like NurturMe, that was more geared towards modern parents' lifestyles.
SML: What makes your products different than anyone else's?
CF: We are especially proud of our products' differentiation. Our NurturMeals – as a baby food concept – are completely new & different and their attributes offer many unique benefits. NurturMeals can be mixed with breastmilk; or mixed into foods for older kids for added nutrition; they can be prepared across all "stages" of feeding. In addition, we now have the first and only certified-organic, pure quinoa cereal for infants, which is a healthy alternative to rice cereal since it is a complete protein with all the essential amino acids. Finally, a new snack line we have just recently launched – called Yum-a-Roo's – are nutritionally superior as a toddler snack because they include 1.5 servings of fruits and veggies in every bag!
SML: What was the biggest challenge or setback you had when forming your company, whether it be time wise, financially, or emotionally?
CF: The biggest challenge for most consumer products startups is typically cash-flow. Our experience is no different. :) It requires a lot of forward spending to build momentum behind a brand or product, so you have to plan accordingly and expect financial losses in the early stages.
SML:What's the one piece of advice you wish you had been given when you got the idea to start your company?
CF: One piece of advice I luckily did not require, but suggest to every aspiring entrepreneur, is to find a great partner. I lucked into one of the most effective, supportive, and complimentary business partnerships imaginable, and had that not happened, I'm not sure I could say for certain that NurturMe would exist today.
SML: What has been your best memory since starting your company?
CF: We've actually had a lot of great moments. One of the more recent highlights has been moving into our new office space in South Austin – it was an exciting milestone. We plan to host our third anniversary party here in a few weeks, with all the friends & family members who've been so supportive of us along the way – it should be a great time!
SML: If you could go back in time to meet any other famous mom, who would it be and why?
CF: I admire the mother that Princess Diana was. Her legacy endures in her two gracious and altruistic (not to mention adorable!) sons.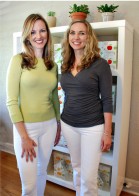 Caroline Freedman with NurturMe co-founder Lauren McCullough
For more of NurturMe visit their: