11 Beauty & Fashion Finds This Holiday Season (#Giveaway)
Author: Shannon Miller Lifestyle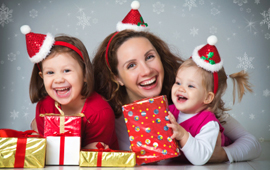 The holidays are here!
Moms, it's time to treat yourself.  Turn into that "hot mama" with these holiday gift ideas for yourself, other moms, or whoever! From sparkly and flawless beauty makeup for your work party to skin care savers that will give you a mug to be envied by any shopper, our top Holiday finds are going to make you love this time of year even more! Don't forget to get a stunning New Year's Eve dress!
Some are super affordable, others you'll want to splurge on, but they're all curated by our SML Team to make you feel fabulous in the social, party season.
You may even find a way to WIN a few of these products at the end of this article if you've been a good girl all year! We've made a few calls to the North Pole already for ya…