Back To Reality
Author: Shannon Miller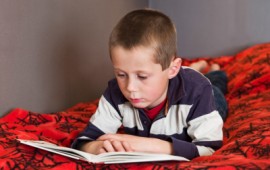 As much fun as the holidays have been, it's time to get back to our daily routine!
The short work weeks have been refreshing and relaxing for us.  And our kids have certainly enjoyed sleeping in, skipping homework, and playing with all their new toys.  So how do we best transition back to reality?
Here are some great tips to getting your kids back on track from Mom's that know:
The early bird catches the worm. A couple days before the first day back, start getting your kids up when they would have to get up for school and putting them to bed at their normal bedtime.
Bookworms. Before school starts back, have your kids start doing some school-related work, so that their brains aren't overwhelmed when it comes time to hit the books again!  Even just having them read a little everyday might help the transition to be a little smoother.
Talk it out! Young children (early elementary age) don't have the best sense of time; as far as they know, they are on vacation for another month!  A couple days before school starts back, start talking to them about it, so that they understand why they have to start catching the bus and spending the day in a classroom again!
Do you have any tips that help your children get ready to go back to school after the holidays?
Please add a comment and share with us.