Building Self-Esteem in a Child with ADD/ADHD
Author: Shannon Miller Lifestyle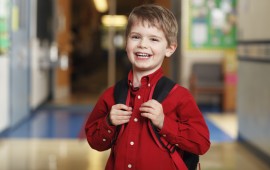 Attention Deficit Disorder or Attention Deficit Hyperactivity Disorder (ADD/ADHD) has often been linked with low self-esteem, anxiety, and other emotional and mental health problems.
Some research shows that ADHD children are up to four times as likely as other kids to develop symptoms of depression as they grow up. These troubles often stem from the lack of control kids feel over what they experience, says Dr. Steven Kurtz, director of clinical services for the ADHD Institute at the New York University Child Study Center, NYU Medical School.
As a parent, helping to build self-esteem and giving positive reinforcement to your child is key.  "It's really about building skills and reinforcing those skills." cites Dr. Kurtz.
Here are some really helpful guidelines to follow in building self-esteem and giving positive reinforcement:
Focus on their strengths – Building self-esteem in a child with ADHD is the first step. If your son/daughter struggles in school work with their teachers to help encourage them by focusing on their academics strengths.
Accommodate in school – This is very important… Dr. Kurtz says parents must be willing to learn about education laws and request any accommodations needed for their child. "Parents and teachers need to work together to come up with a plan," he says, which should include making sure that learning materials at the child's level are used and that instruction is tailored to his or her needs, whether that means more individual attention or having specific learning aids, such as a laptop or tape recorder, available in class for note-taking.
Keep instructions positive – Dr Kurtz says "Many kids with ADD/ADHD need to know what the appropriate or expected behavior is. Parents and teachers must be on the spot, redirecting inappropriate behaviors and instructing the child on what he or she should be doing instead."
Boost Success – "Kids with ADD/ADHD have more difficulty directing toward long-term goals," Dr. Kurtz says. "Giving instructions in developmentally appropriate bite-size pieces helps your child build those skills, which benefits them long-term."
Use rewards – I advise parents and teachers to feel comfortable using rewards," cites Dr Kurtz. "These can be very helpful in getting a positive behavior started. Then, once the child sees that the behavior makes sense, he or she won't need the rewards anymore."