How To Understand Car Seat Safety
Author: Shannon Miller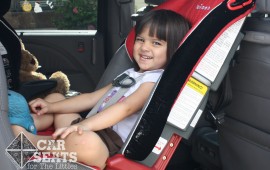 Is your child safe when riding in the car?
According to the Jacksonville Fire and Rescue Department, motor vehicle injuries are the leading cause of death among children in the United States.
Each day, an average of five children under age 14 die in traffic accidents. Of those, about half were unrestrained by a seatbelt or car seat at the time of the accident, according to the National Highway Traffic Safety Administration. Be sure to keep in mind these great tips whenever travelling in a motor vehicle to ensure safety of all passengers:
The American Academy of Pediatrics recommends that ALL infants and toddlers ride in a Rear-Facing Car Seat until they are a minimum of 2 years of age or until the reach the highest weight or height allowed by their car seat's manufacturer.
Every passenger should be properly restrained with a seat belt, child safety seat or booster seat, depending on age and size.
Never hold a child on your lap.
Children age 13 and under should ride in the back seat.
Never ride in the cargo area of a pickup, van or station wagon. Anyone doing so risks being thrown out and severely injured or killed in an accident.
Infants should ride in rear-facing car seats in the back seat of the vehicle. Never put a rear-facing car seat in the front seat of a vehicle with an active passenger air bag.
Anything that is unrestrained can be a projectile in an accident.
We spoke with a Child Passenger Safety Technician from Car Seats For The Littles for more information on car seat safety and best practices to keep your child safe anytime you are traveling in a motor vehicle:
SML: Why did the AAP recently change their recommendations for rear facing?
CSFTL: Child Passenger Safety Technicians (CPSTs) have been advocating rear facing far past the legal minimum of 1 year and 20 pounds for well over a decade, based on the fact that a toddler's developing spine and proportionally large head puts them at serious risk when in a forward facing car seat. However, it's only been in the past few years that the scientific data has become available to show the exact difference in safety: children under the age of 2 years are 75% less likely to die or sustain serious injury when they are in a rear-facing seat. (source: PEDIATRICS Vol. 121 No. 3 March 1, 2008 pp. 619-620)
SML: What is your personal recommendation to parents in regards to rear-facing vs forward-facing?
CSFTL: My personal recommendation is based on science: a child's spinal column is made up of bone and cartilage that is slowly fusing together over time and their heads are large in proportion to the rest of their body. The ossification of the spinal vertebra and evening out in proportions happens slowly over time. The ideal is for a child to rear face until somewhere near the fourth birthday. Spinal maturation occurs over time and is independent of height and weight, which is why guidelines are based on age rather than size.
SML: What are some of the most common mistakes you see when checking car seat installations?
CSFTL: 
Moving to the next stage too early. Best practice is to rear face until age 3-4, harness until age 5-6, and booster until age 11-12. You'll never regret erring on the side of caution.
Forgetting to use the top tether for a forward facing seat or using lower anchors incorrectly (LATCH carries a weight limit that varies by vehicle, and many vehicles also restrict which seating positions can be used with lower anchors). Before installing any child seat the most important piece of research is reading the entire manual; for the child seat AND the vehicle.
Not securing the car seat properly with the seat belt (when not using LATCH). Again, it is very important to read the manuals to know how to lock the seat belt into place so the car seat can work properly in a crash.
SML: What are your most frequent tips to parents when they come to get their car seats checked?
CSFTL: Read the manual, read the manual, read the manual!
SML: How do I go about choosing the safest car seat for my child?
CSFTL: The safest seat is the one that fits your child, fits your vehicle, and can be installed and used correctly every single time. Do your research and try out the seats, when possible, before buying. Utilize an online group or forum, such as Car Seats for The Littles on Facebook, to get educated feedback and suggestions, or contact your local CPST.
SML: What are the basic different types of car seats?
CSFTL:  
Infant seats: Rear facing only with a base that stays in the car and a carrier that can be easily snapped in and out of the base; typically used with a stroller as well. Generally used for the first year.
Convertible seats: Rear facing and forward facing. Some can be used from birth until about four years old rearfacing. If your child outgrows it forward facing before they are mature enough for a booster, move to a combination seat.
Combination seats: Forward facing only with a five point harness, then transitions to a belt positioning booster. Most will last a child until they are capable of sitting properly in a booster, some will last until the child is tall and old enough to move to just using an adult seat belt.
Booster seats: Used with the seat belt only, properly positioning an adult seat belt over a child's body. Boosters should be used until the child can pass what we call the Five Step Test.
SML: What are some recommendations you have of specific car seats? Are there any to avoid and why? 
CSFTL: 
There are so many different car seats on the market that fit different children, vehicles and budgets, it's difficult to narrow it down to a few specific seats. We do give basic guidelines.
Pay attention to a seat's height allowances more than weight allowances. For example: many infant and convertible seats are rated from 5 lbs, but may not correctly fit a 5 lb child's height. And most seats with forward facing capabilities are rated up to 65lbs or more, but the majority of kids will outgrow the seat in height long before coming close to the weight limit.
A 3-in-1 seat (one that has a rear facing, forward facing and booster function in one seat) seems appealing: buy one seat to fit your child through their car seat years sounds great. However, most "all in one" seats are outgrown too quickly in one stage or another, or don't easily function in every mode. Focus on the stage your child is in now, rather than all the stages to come.
SML: Is there anything else you'd like to share with us? 
CSFTL: Child Passenger Safety Technicians exist to help you! Seek one out to help you choose a seat to fit your needs and help you install and use it properly every time. Don't be afraid to ask questions, we want your kids to be as safe as possible!
About CSFTL:
Car Seats for the Littles is a team of Child Passenger Safety Technicians. Created by Jenni Olson, we began as a Facebook group aimed at helping parents select the right seat and use it properly every time. The group has grown to over 21,000 members, and our website (www.csftl.org) provides educational material to parents everywhere. We exist to help parents know as much as possible to keep their Littles as safe as they can.