Fun Facts to Share about Thanksgiving!
Author: Shannon Miller Lifestyle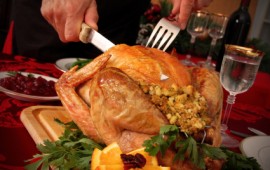 It is hard to believe Thanksgiving Day is almost here!
Thanksgiving Day is a great day to share old and new traditions with family and friends as you break bread together and give thanks for the many things you have been blessed with.
Thanksgiving in most homes is all about family, food and fun!
Sitting around the beautifully, decorated dinner table sharing some great stories that bring back wonderful memories from years gone by.
Then after that delicious meal, the men head to couch, for some good old football!
Sound familiar?
Well, how about a little trivia to get those creative juices flowing? Let's see how much you really know about Thanksgiving.
Here are some Thanksgiving facts that you can share with your friends and family, and that just might just surprise you:
About the First Thanksgiving
1. The first Thanksgiving dinner lasted three days.
2. The Plymouth Pilgrims were the first to celebrate Thanksgiving.
3. The Native Americans celebrated the first Thanksgiving at Plymouth, Massachusetts.
4. Mashed potatoes, pumpkin pies, popcorn, milk, corn on the cob, and cranberries were not foods present on the first Thanksgiving's feast table.
5. Lobster, rabbit, chicken, fish, squashes, beans, chestnuts, hickory nuts, onions, leeks, dried fruits, maple syrup and honey, radishes, cabbage, carrots, eggs, and goat cheese are thought to have made up the first Thanksgiving feast.
6. You can always have fun trying to eat like the pilgrims did – with your fingers, spoons and knifes.
Let's talk  about turkey!
1. The average weight of a turkey purchased at Thanksgiving is 15 pounds.
2. Turkey has more protein than chicken or beef.
3. Turkeys will have about 3,500 feathers at maturity.
4. Turkeys have heart attacks. Proven by The United States Air Force who were doing test runs and breaking the sound barrier. Nearby turkeys reportedly dropped dead with heart attacks.
5. A large group of turkeys is called a flock.
6. Each year, the average American eats somewhere between 16 – 18 pounds of turkey.
About Thanksgiving Day

1. About 280 million turkeys are sold in the US for the Thanksgiving feast.
2. Thanksgiving Day is celebrated on the fourth Thursday in November in the United States.
3. Black Friday is the Friday after Thanksgiving in the United States, where it is the beginning of the traditional Christmas shopping season.
SML TIP:  These are just a few, fun nuggets of Thanksgiving facts trivia that you can share while in the kitchen and at the dinner table this year. Your family and friends will think you had to do a lot of research.  :)
Happy Thanksgiving, and may your day be full of many blessings as you celebrate with those you love.  
For even more Thanksgiving facts, visit the source of this article, the WHSV Channel 3 Thanksgiving Fun Facts article.