Holiday Gift Guide 2014
Author: Shannon Miller Lifestyle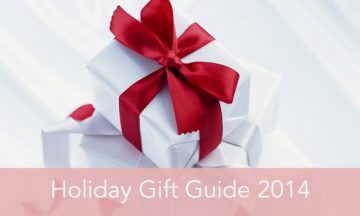 Happy Holidays from all of us at Shannon Miller Lifestyle!
This is the best time of the year! But we also know that it can cause scrambling for last minute gifts and leave you feeling stumped when you really don't know what to get for someone! We wanted to bring you some fresh ideas for gifts this holiday season that your friends and family are sure to enjoy!
For Dads
For the Dad who likes to capture memories
The Go Pro HERO3+ Silver Edition Camera is the perfect gift for Dad this holiday season. Not only is the HERO3+ Silver Edition 20% smaller and 15% lighter than previous models, it's 2x more powerful—making it the most advanced Silver Edition camera yet. Wearable, gear-mountable and waterproof to 131'/40m, it captures professional-quality video at resolutions up to 1080p60 and 10MP photos at up to 10 frames per second. With 4x faster Wi-Fi, enhanced low-light performance, 30% longer battery life and compatibility with all GoPro mounts and accessories, the HERO3+ Silver Edition makes capturing and sharing your life easier than ever.
For the Fitness Loving Dad
The Polar Loop is the Perfect gift for anyone who is looking to get fit. The Polar Loop is the ultimate activity tracker, tracking how much you walk, run, jump, climb stairs, sit, and lay down each day. It even tells you when you've been sitting for too long to encourage you to get up and move! It connects with an app, available on iPhone and Android devices, to help you set and reach goals every day. It also connects with the Polar heart rate monitors to track your workouts each day. Help dad get or stay fit this holiday season with the perfect gift from Polar.
For Moms
For the Sentimental Mom
Personalized jewelry is extremely popular right now. It gives mom(or grandma) the opportunity to show a little flare while having those she loves represented around her neck, wrist, or finger. Etsy is my favorite place to find these! The best part is you are supporting an individual's small business and you will find something unique, not to mention usually less expensive than some of the big name jewelry stores or boutiques that sell similar items.
Get a personalized jewelry item here!
For the Mom who NEEDS Some Relaxation
An at home spa basket is surely the way to mom's heart! Full of candles, bath salts, bubble bath, body wash, sweet treats, a bottle of wine, or whatever can help your mom relax, a spa basket is a simple but great gift idea for mom. Whether you purchase an already made one or put your DIY skills to the test to personalize it just for your mom, she is sure to enjoy it.
Check out these great DIY tips to make your own spa basket from Brit+Co!
Check out some ready to go spa baskets here!
For Kids
Most parents, uncles, aunts, and grandparents already know that anything Frozen is probably the most asked for gift by kids this year, but we wanted to step a little out of the box and find some non-character things that kids would really enjoy!
For the Artistic Kid
What is better to a elementary age child than a bunch of arts and crafts? Not much if you ask me. This adorable art jar from Pottery Barn Kids is great for special projects and crafts, including school projects, or just a creative day with a friend. Its full of pom poms, pipe cleaners, felt, crepe paper, odds and ends, and more! You can also DIY with an empty jar of animal crackers and a quick trip to your local craft store!
For Just About Any Kid
Melissa and Doug is a fantastic kids toy brand and makes a great gift for any child. The toys they make are durable and inspire creativity from a young age. They offer over 2000 different products to meet the needs of children from birth to at least age 10. One of the current favorites in my house are the fruit and vegetable cutting sets. They are portioned into sections, secured together by velcro, and come with a wooden knife to cut into pieces. They help young children learn to use a knife safely and they help slightly older children begin to learn fractions since they all have a different number of pieces to them. Parents and children are sure to love the range of Melissa and Doug toys this Holiday season!
For the Teenager
Teenagers are probably one of the hardest groups to shop for. Make it easy this year and give them a blast from the past! This Fujifilm Instax camera is just like the polaroid cameras of years past with a few upgrades. Your teen will love the "retro" cuteness that is this instant camera. It creates credit card size photos in just seconds on the bold new Fujifilm, but retains the classic analog look that everyone loves. Because what teen doesn't like to take a #selfie?
Also, remember to check out the SML store and enter code SBHoliday25 during checkout, to receive 25% off everything in your cart (excludes Fitness Mats and shubeez products). Only valid from 12/15/14 to 12/25/14.