Making Thanksgiving Fun for Everyone
Author: Shannon Miller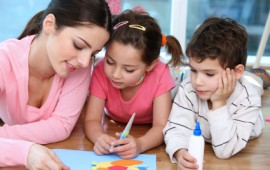 Many holidays require a great deal of work.
Sometimes it's easy to forget the reason for the holiday because we spend so much time rushing around, planning, putting things together, and worrying that everything is going to be perfect.
This holiday season, challenge yourself to relax.
Make the holidays…dare I say…fun!  Who better to remind you of the true spirit of the holidays than your children?  Share this special time with them and you are sure to have fun doing so!
Try these Thanksgiving craft/activity ideas
by Parenting.com: 1
Work out those turkey legs! Participate in your local Turkey Trot (Thanksgiving Day run).  Do it as a family.  It'll be a great way to start the holiday together!
Thankful Place Mats. Make some plain place mats for the guests who will be attending your Thanksgiving Day feast.  Then, have your kids decorate the place mats by writing why they are thankful for each guest.  Your kids will love being able to help and your guests will be sure to feel special!
Feather Hunt. Much like Easter morning when you have your kids busily look for eggs, this Thanksgiving you could have them look for feathers ("turkey" feathers of course)!  Buy colorful feathers at a craft store and strategically place them around the house.  Collecting them will be a fun activity for the kids and will buy mom a little time to focus on her to-do list or take a much needed break.

Turkey Décor. Have the family make the classic hand turkeys. Yes, we've all done it. In fact my, I'm pretty sure my mother still has a few of them in the attic. Trace your hand on a sheet of white paper, make your thumb into the head, and the rest of the fingers into feathers.  Everyone can color and customize their turkeys.  The turkeys can then be laminated and put on the refrigerator for your family to admire on the days leading up to Thanksgiving or put in the windows for the neighbors to see your family's holiday spirit!
TIP:  No matter what your family traditions are, make having fun one of them this holiday season!
1 "12 Easy Thanksgiving Crafts and Activities for Kids" on Parenting.com, 5 Nov 2010